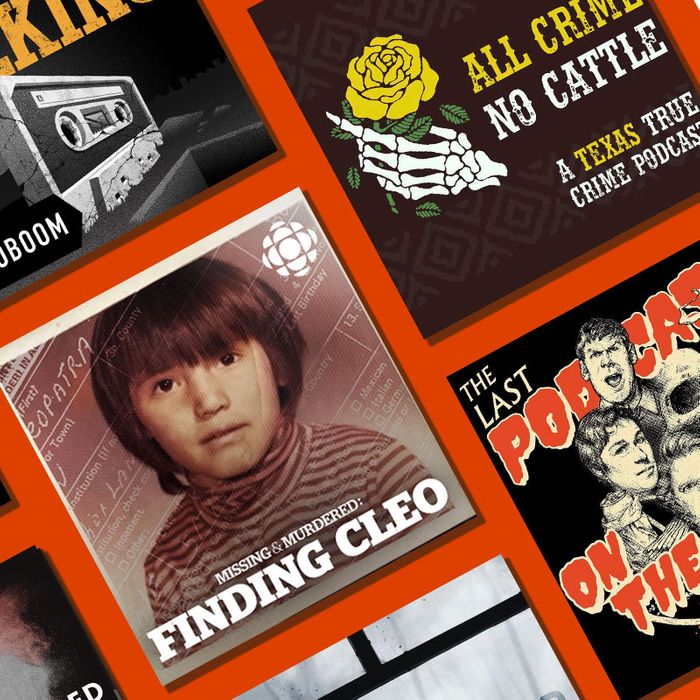 The true-crime podcast universe is ever expanding. We're here to make it a bit smaller, a bit more manageable. There are a lot of great shows and each has a lot of great episodes, so we want to highlight the exceptional, the noteworthy. Each week for the month of October, our crack team of podcast enthusiasts and specialists will pick their favorites. To read last week's edition, click here.
Unobscured: "The Outsiders"
October is the perfect time to learn all about the Salem witch trials because what's spookier than paranoia and mob rule in the name of religion? This new podcast, hosted by Lore's Aaron Mahnke, is spending its entire first season on the topic, from the history of Salem and its warring ruling-class families to the women on trial themselves. The first episode set up the scene for the trial, with in-depth information about the establishment of Salem, its laws, and the sociopolitical forces that made it a veritable powder keg ready to blow. The trial itself begins in the second episode, and guest experts like The Witches author Stacy Schiff offer further insight into the women at the center of the trial — Tituba, Sarah Goode, and Sarah Osborne. Although Unobscured might fall more into the category of history than true crime, it should interest anyone who's invested in the pursuit of justice for victims and the wrongfully committed alike. Pair it with the West Memphis Three episode of Last Podcast on the Left (see below) and see just how much we've learned over the centuries. (Spoiler: not a lot!) —Jenni Miller
Listen: Spotify | Apple | Website
Dead Man Talking: "The Kolojaco Case"
Run, don't walk, to download the just-launched podcast Dead Man Talking. The conceit is irresistible: In 2003, journalist Alex Hannaford spent an hour interviewing Ángel Reséndiz (a.k.a. the Railroad Killer) from behind bars on death row. During their conversation, Reséndiz confessed (albeit not for the first time) to an additional murder, that of Darryl Kolojaco, whose wife, Diamantina, and her boyfriend, Andres Moscorro, were tried and convicted of the crime. Though Reséndiz was later executed in 2006, the taped confession continued to haunt Hannaford through the years, and he began his own investigation into whether the Railroad Killer could have been even deadlier than authorities even know. This second episode delves deeper into Diamantina's side of the story, featuring a prison interview that raises more questions than it answers. I have no idea where Hannaford's investigation will lead, but I am so along for the ride. —Amy Wilkinson
Bear Brook: "Known Only to God"
This newcomer from New Hampshire Public Radio is a doozy: In 1985, two bodies were found in a mysterious barrel in the woods of Allenstown, New Hampshire. And 30 years later, police still haven't been able to identify them. One was a woman. One was a young girl. They could've been a mother and her daughter. Or not. Investigators say that the remains had been in the barrel from anywhere between several months and a few years. Episode two just came out, but you'll definitely want to listen from the start: The first episode leaves you hanging with a huge, jaw-dropping piece of information that will leave you stunned. I actually screamed "What?!" on the subway while listening to it. Sorry, fellow commuters! —Hillary Nelson
Listen: Spotify | Apple | Website
The Dream: "Yes, I Would Like to Swim in Cash"
I'm a big fan of true-crime podcasts that (1) aren't about murder and (2) don't bend over backward to tell me they're about true crime. The Dream sits neatly in this sweet spot, and also does something you're probably too scared to do: calls out those direct-sales or multilevel-marketing companies your Facebook friends are always gushing about for what they are … total scams. With exceptionally punchy writing and deft editing that smacks of actual editor Peter Clowney (one of very few industry editors whose influence I can actually hear), The Dream follows host Jane Marie on a journey from the bottom of the MLM pyramid to its seedy, greedy top. The twist? The bottom holds a lot of ground in Jane's own family, as we learn when she goes home to rural Michigan and interviews relatives about their generationally imprinted relationships with MLMs. There's also an unflinching look at how so many MLMs target women — and only women — with messaging that screams, "BE YOUR BEST AND MOST POWERFUL SELF!" but ultimately rings hollow, especially when it comes to the piggy banks of their victims … er … salespeople. And the cherry on top of this podcast pyramid? It's the delectable treat that is this week's episode, "Yes, I Would Like to Swim in Cash," in which one of the show's producers buys in to a direct-sales scheme, allowing us to hear for ourselves exactly how easy it is to get sucked in by an MLM, as long as you have $169 and a million hours to spare. —Rebecca Lavoie
Listen: Spotify | Apple | Website
Last Podcast on the Left: "The West Memphis Three Part 1 — the Road to Hell"
Every true-crime aficionado has a few blind spots, and for me, it's the case of the West Memphis Three. I'll get around to watching Paradise Lost some day, but for now, I'm letting hosts Ben Kissel, Marcus Parks, and Henry Zebrowski be my guide to this twisty tale of three teenagers tried and convicted of the brutal murders of three young boys in West Memphis, Arkansas. The hosts are upfront about their biases — they're firmly on team not guilty. But they go on to offer a clear and (as much as possible) concise introduction to the case and the small-town machinations and broader societal factors (i.e., the satanic panic) that may have attributed to the teenagers' arrests. As always, I recommend Last Podcast on the Left and its salty shenanigans with the caveat that it's not for everyone: Listener beware. —Amy Wilkinson
Listen: Spotify | Apple | Website
Halloween Unmasked: "Michael Myers: Psychopath, Serial Killer … and Victim?"
I was already obsessed with this podcast, in which journalist and all-around awesome human Amy Nicholson examines the (yes, fictional) movie Halloween from all angles — including this episode, which focuses on how Myers stacks up against real-life serial killers. To that end, Nicholson interviews serial-killer expert and author Peter Vronsky, who wrote Serial Killers: The Method and Madness of Monsters and Sons of Cain: A History of Serial Killers From the Stone Age to the Present, and psychiatrist Dr. Anthony Tobia, who teaches a course at Rutgers called REDRUM, which stands for Reviewing [Mental] Disease with a Rudimentary Understanding of the Macabre (and, of course, a Shining reference). That's right, he uses horror movies to teach students about IRL psychopathology. Is it too late for me to enroll? —Jenni Miller
Listen: Spotify | Apple | Website
The New Yorker Radio Hour: "The Long Distance Con, Part 1 and 2"
"Tip No. 1, don't go. And don't underestimate old men; no, seriously, they're sometimes the most vicious." I'm not typically interested in con men, but there's something about Jim Stuckey and the sheer gigantic scope of his con that is baffling. Stuckey convinced Terry Robinson that hidden in jungles and caves in the Philippines there was a huge cache of gold bullion, uncut U.S. currency and Treasury bonds. Which sounds insane; on the outside it seemed totally impossible, but how did Robinson get so consumed and convinced that he sunk hundreds of thousands of his money into this? You'll want to find out. —Hillary Nelson
Listen: Spotify | Apple | Website
Award-worthy flashback! Missing and Murdered: Finding Cleo
This week, the Third Coast audio festival took place and gave away some of the most coveted awards in podcasting and radio, including a big one — Best Serialized Audio Story — for the CBC podcast Missing and Murdered: Finding Cleo. Released earlier this year, Finding Cleo easily ranks near the top my "best of true-crime podcast" list, surpassing its previous (and also excellent) season subtitled, Who Killed Alberta Williams? So many things set Finding Cleo apart, starting with host Connie Walker, a TV reporter who's dedicated her career to telling stories about the violent deaths of so many indigenous women in Canada, and whose shoe-leather chops and innate sensitivity translate to incredible instincts when it comes to getting great tape. Finding Cleo accomplishes so many things that lesser shows try to do, not the least of which is delivering on the promise of its title. (To be fair, this isn't a huge spoiler because the mystery surrounding Cleo — a Cree girl taken from her family and given to white parents in the United States as part of a government program called the Sixties Scoop — is solved fairly early in the series.) Walker's other secret weapon is her own background. She's Cree, and grew up on a reservation in Saskatchewan, a fact that disarms her most reticent interview subjects and usually leads to them to opening their doors for her. But what makes Finding Cleo really stand out is its brand of storytelling. It's fearless in its advocacy, but also deeply journalistic at its heart, so much so that when Connie gets her biggest break, she's open about it being the result of something that's so common in great reporting and yet so seldom admitted by great reporters: a piece of unimaginable good luck. —Rebecca Lavoie
Criminal: "Ten Thousand Feet in the Air"
For the podcast's 100th episode, host Phoebe Judge aims high — 10,000 feet in the air high, that is. The silk-voiced storyteller takes us up to the not-so-friendly skies, where a D.B. Cooper copycat named Martin McNally is attempting to hijack a plane bound for Tulsa in 1972. (Apparently, plane hijackings — especially those to Cuba — were so common in the 1960s that Time magazine published a story advising air passengers to "just stay calm and enjoy the mojitos.") What transpires in McNally's case is a true comedy of errors and an oddly delightful tale given the circumstances. But McNally's story doesn't end with his arrest and conviction: Judge promises that a second installment will cover his attempted prison break, and there will be a helicopter. —Amy Wilkinson
Listen: Spotify | Apple | Website
All Crime No Cattle — a Texas True Crime Podcast: "The Newton Gang"
Even the most die-hard true-crime fans occasionally need a break, especially given the current news cycle, so this week's episode is a bit more lighthearted than usual. Co-hosts Erin and Shea do a deep dive into the Newton Gang, the gentleman bank robbers whose high jinks were committed to film by Richard Linklater in 1998's The Newton Boys. (Sidenote: If you haven't seen Linklater's Bernie, you need to get on that ASAP.) As a native Texan who loves true crime, "All Crime No Cattle" is a revelation. I'm hooked on Erin and Shea's dulcet tones, their on-air chemistry (being married to your co-host helps), and their thorough research. They even cite their sources at the beginning of each episode! And they're extremely respectful of victims — their episode on the Laredo murders is pretty damn great. —Jenni Miller
Listen: Spotify | Apple | Website
Up and Vanished: "What We Know"
Payne Lindsey has a special way of making you completely engaged in unsolved mysteries, which can be difficult since many listeners go in knowing there is no real resolution. Who wants to read a book with no ending? (Other than me?) Season two is back with a new mystery, set in Colorado, investigating the disappearance of Kristal Reisinger. Episode seven is a great recap episode that pulls all of the pieces back together, ensures you're up to date on the timeline, recaps some of the previously hard-to-hear phone calls, and teases that as the case is unraveling more in real time, it seems like something shocking may be just around the corner. —Hillary Nelson
Listen: Spotify | Apple | Website
This week's reviewers: Rebecca Lavoie, Jenni Miller, Hillary Nelson, and Amy Wilkinson.