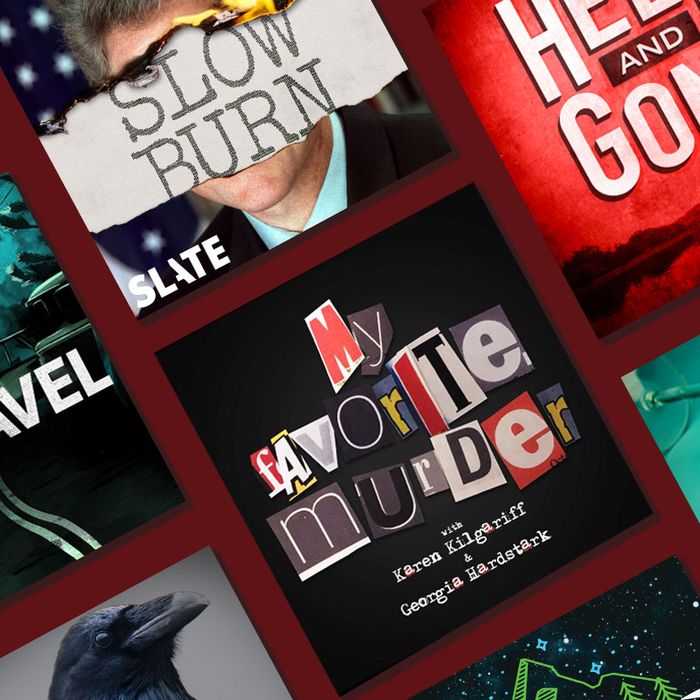 The true-crime podcast universe is ever expanding. We're here to make it a bit smaller, a bit more manageable. There are a lot of great shows and each has a lot of great episodes, so we want to highlight the exceptional, the noteworthy. Each week for the month of October, our crack team of podcast enthusiasts and specialists will pick their favorites. To read last week's edition, click here.
Someone Knows Something: "Ravens" and "Dead End"
The CBC Radio podcast returns for a fifth season with two episodes introducing the heartbreaking cold case of Kerrie Brown, a 15-year-old who disappeared from a house party in the small Canadian mining community of Thompson, Manitoba, and was eventually found bludgeoned and murdered. More than 30 years later, the brutal crime still has a near-paralyzing effect on all involved, especially Kerrie's older brother Trevor, who bears deep mental and emotional scars. Trevor serves as our primary window into Kerrie's short life, and the first episode's title alludes to his theory that one of the all-seeing birds that flock around his hometown may have witnessed (and remembered) the violent act. (Research indicates that ravens have a thing for human faces.) While musings like that may read hokey, they're regarded compassionately by host David Ridgen, who remains one of the most humane and sympathetic podcasters out there. Whether its his lilting Canadian accent or simply an open heart for victims and their families, Ridgen's work never feels callous or exploitative — he's simply there to find out whether someone knows something that can help solve Canada's coldest of cases. — Amy Wilkinson
Hell and Gone: "14 Years Gone"
I've been waiting with bated breath for Hell and Gone to go live, and the first episode does not disappoint. In this series, writer and private investigator Catherine Townsend heads out to Mountain View, Arkansas, to search for clues in the murder of 22-year-old Rebekah Gould in 2004. It's not just another cold case for Townsend, who reveals that she's spent a great deal of time in the area; plus, her father and sister still live in Mountain View, and her little sister is friends with Rebekah's sister, Danielle. That familiarity gives Townsend a leg up when talking with Danielle and Rebekah's father, Larry, whose interviews will leave you in tears, and great insight into the area in general. She also interviews reporter George Jared, who was just starting out when Gould was found murdered. This kind of boots-on-the-ground reporting is a refreshing change of pace from so many true-crime podcasts, and Townsend is a consummate storyteller. — Jenni Miller
Listen: Spotify | Apple | Website
Mile Higher Podcast: "Mysterious Case of the Missing Sodder Children"
Mile Higher has flown under the radar for quite a few true-crime listeners, and I'm determined to change that. Husband-and-wife duo Josh Thomas and Kendall Rae focus on crime and conspiracies, with a bit of random real-world news thrown in each week. This week's episode, about the missing Sodder children, is a prime example of why: There have been countless podcasts covering this infamous fire in which five children disappeared, but Josh and Kendall mix well-researched facts and information with new intriguing theories. It's possibly the best single podcast episode on a well-covered case. — Hillary Nelson
Listen: Spotify | Apple| Website
True Crime Obsessed: "Demon House"
It's not wrong to laugh when you're listening to a true-crime podcast. Or at least I hope it isn't, because if almost crashing my car while listening to True Crime Obsessed is wrong, I don't want to be right. Helmed by the relentlessly ebullient Patrick Hinds and Gillian Pensavalle, TCO doesn't go the Wikipedia Brown route of some better-known true-crime comedy shows (I'm looking at you, Murderinos.) Instead, the pair delivers detailed, whip-crack commentary on true-crime documentaries of all stripes, from the seriously sublime, like The Central Park Five, to the truly, spectacularly awful. Enter this week's "Demon House" episode — this podcast in peak form. Demon House, a movie which the TCO crew gleefully excoriates from start to finish, was made by paranormal bro-vestigator Zak Bagans, who's known by tens of fans as the host of a must-not-see TV show called Ghost Adventures. For some reason (okay, the reason was actually to make this crappy movie), Bagans bought a house in Indiana that's not only believed to be haunted, but may actually contain some kind of portal to hell. "It's definitely, definitely real," Hinds exclaims in the episode's notes, "he has NOTHING TO GAIN BY MAKING THIS WHOLE THING UP." We, however, have A LOT to gain by riding shotgun as Patrick and Gillian break the whole thing down. — Rebecca Lavoie
Listen: Spotify | Apple | Website
Unravel True Crime: "The Hunting Ground"
The disappearance of Trudie Adams from Barrenjoey Road in 1978 is exactly the sort of tale that young women are told to scare them away from hitchhiking, with good reason. However, what Australian journalist Ruby Jones digs up (no pun intended) in the third episode seems to expose something bigger than she could have imagined. When Trudie's story was released to the public, numerous women in the area came forward with their own stories of kidnapping and violent rape, with some very particular details in common. A former park ranger reports hearing and seeing horrible things in the bush around this time — could they be related? When Jones enlists him to guide her to the remote area, what they uncover points to a sinister pattern and a seriously dangerous local criminal. — Jenni Miler
Sword and Scale: "Episode 124"
Psychologists have dubbed it the "Columbo technique" after the beloved TV gumshoe: Play dumb while interrogating a suspect and you may strike upon a telling (and damning) piece of evidence. And while the detectives working the cold case of 8-year-old Kirsten Hatfield's murder in Midwest City, Oklahoma, don't necessarily have a "there's just one more thing" moment, they do enter the interrogation room knowing a lot more than they let on. Which becomes oh-so satisfying when — after the suspect prattles on about how he only ever saw the little girl (his neighbor two doors down!) once or twice — an investigator pulls out DNA test results that would indicate otherwise. I give this episode four out of five trench coats. — Amy Wilkinson
Listen: Spotify | Apple | Website
Slow Burn: "Move On"
You'd think it would be near-to-impossible for Slate's political true-crime podcast Slow Burn to top its brilliant first season, which took a Trump-era look at the Watergate scandal. Then season two dropped, and somehow managed to feel even more timely in its examination of the impeachment of Bill Clinton. Slow Burn not only digs up forgotten and misremembered chapters in the saga, but reweighs them in the frame of today's #MeToo sensibility. Unless host Leon Neyfakh is psychic, there's no way he could have known the Brett Kavanaugh hearings would land in the middle of his story's release. And while season two kicked off with an illuminating look at Monica Lewinsky's private and public treatment, it's the series finale's focus on Clinton's most controversial accuser, Juanita Broaddrick, which delivers the gut punch. Broaddrick, who tells Neyfakh the same story of being allegedly raped by Clinton that she told multiple witnesses back in 1978, is a kind of reverse-image of Kavanaugh accuser Christine Blasey Ford… yet comes across as equally credible. And while Ford's memories were openly doubted by Republicans like Senator Chuck Grassley in 2018, that very same senator was a fervent supporter of Broaddrick's right to tell her story publicly in 1999. But what "Move On" accomplishes is so much more than exposing hypocrisy inside the Beltway. It also challenges listeners — and Neyfakh himself — to confront our own hypocrisy, something so many of us have been comfortably living with in our own political bubbles for decades. — Rebecca Lavoie
Listen: Spotify | Apple | Website
Murderous Minors: Killer Kids: "12 Year-Old Lifer"
This episode is a bit different from the typical Murderous Minors podcast: It's a bonus episode that takes on a more informal style. Broadcast as a conversation between host Warbaby and recurring guest Heather, they literally ask each other questions about the case during the episode. The format made this episode, about 12-year-old Paul Henry Gingrich, who was convicted for helping murder his friend's stepfather, so engaging. Furthermore, this case is chilling. (I also have a special place in my heart for Warbaby, who admits that she started the podcast as she was about to become a parent because she realized that kids can be capable of more than we're willing to admit. As a true-crime junkie, this checks out.) — Hillary Nelson
Wine & Crime: "Royal Kerfuffles"
With this week's one-two royal punch of Princess Eugenie's wedding and Meghan Markle's pregnancy announcement, an episode dedicated to monarchical murders could not have been better timed. If you're not a regular listener of Wine & Crime (which I was not), expect an animated chat among hosts and childhood friends Amanda, Kenyon, and Lucy as they imbibe in the week's wine pairing. (Okay, so maybe the title didn't really need explaining…) For this episode, the women recount the deadly feud between Queen Elizabeth I and Mary, Queen of Scots (soon to be yet another major motion picture) and a similarly bloody (albeit lesser known) battle between the Germanic tribes of the Gepids and the Lombards. (That latter case boasts a great "Roxy, Queen of Billabong" bit that will warm any '90s girl's heart.) Wine & Crime is a fizzy bit of fun — not too dissimilar to My Favorite Murder, though I'll want to listen to a few more episodes before signing my name in blood to that proclamation. Oh, and a quick addendum: If I may be so bold as to offer up my own pairing, I'd recommend chasing Wine & Crime with this week's Once Upon a Crime, which details the Tower of London's many hauntings. — Amy Wilkinson
Listen: Spotify | Apple | Website
My Favorite Murder: "Live at the Durham Performing Arts Center"
MFM was my gateway drug to true-crime podcasts, and while I get that not everyone enjoys Georgia and Karen's riffing, I adore it. Like many of us Murderinos, they've gotten me through some rough times, and I only branched out to other crime podcasts once I ran out of MFM episodes. This particular live show runs almost two hours, but the crimes themselves are pretty good (as in bad) — the Lawson family, whose patriarch shot and bludgeoned almost his entire (and quite large) family in 1929; and the bananas tale of Susie Newsom and her cousin Fritz, a fake doctor who was obsessed with vitamin C. As for the Lawsons, there's something about Ye Olde Timey murders that send an extra chill down my spine, and familicide is one of those things that boggles the mind. The Newsom case gets more and more outlandish — doomsday prepping, lies about being a spy, Hitler, kissing cousins — until it ends in tragedy. If you're a skipper, the stories begin about 23 minutes in, but honestly, if you're not listening for Georgia and Karen, I don't know what to tell you. — Jenni Miller
Listen: Spotify | Apple | Website
This week's reviewers: Rebecca Lavoie, Jenni Miller, Hillary Nelson, and Amy Wilkinson.