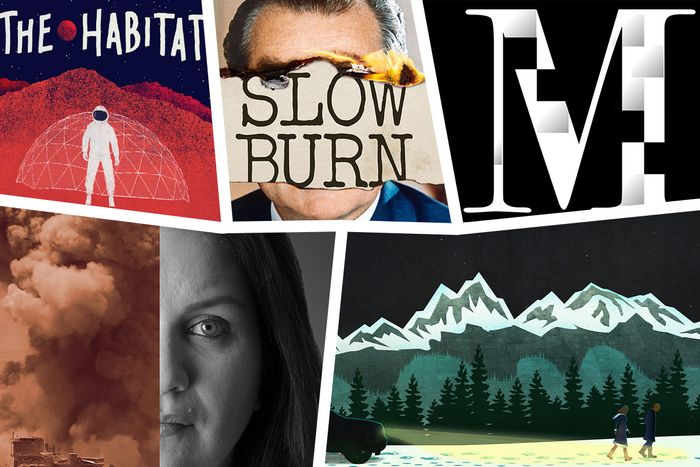 The fight for the podcast throne of 2018 remains very much up for grabs, but that doesn't mean we're short on excellent contenders as well as podcast projects that are simply ear-catching, whether due to idea or execution. We're in the midst of a stacked fall for podcast releases, but that slate comes on top of a year that's already produced some tremendous listens so far.
A few quick notes on how I've assembled this list: Craft is a bit more important to me than the stories themselves. I tend to put more stock into podcasts that function well as stand-alone experiences, though I'm aware that puts comedy, conversational, and "after-show" series at a disadvantage. As always, more established shows have the added burden of being ranked against prior seasons. Also, I'm cognizant of the insanity that comes with pitting narrative, documentary, comedy, fiction, interview, and other podcast genres against each other.
Oh, and of course, this list is definitive and all-encompassing and in no way is defined by the subjective limitations of myself, a human being with his own tastes and preferences. Let's go.
Episode: "Five Women" (This American Life)
Produced by Chana Joffe-Walt, "Five Women" is a particularly powerful entry into the growing body of #MeToo stories. The episode is more complex and nuanced than most, primarily due to its adoption of a Rashomon-style structure that layers together the multiple perspectives of the many women linked to the same accuser. The women, deepened by their histories and biographies, clash and coalesce in many big and small ways, resulting in a portrait of a problem so messy, it reaches for a deeper truth. It's an absolute cliché to roll This American Life into any one of these arbitrary "Best Podcasts" lists, but I tell ya: This is one episode that's still present and alive in the back of my head, almost four months after it was published.
Honorable Mentions
• I really enjoyed Night Vale Presents' Alice Isn't Dead, which wrapped up its three-season run in late August, and functions as a lovely ode to the American road trip mixed with horror elements.
• Wondery's Dr. Death, its follow-up to last year's true crime hit Dirty John, is a little too salacious for my liking, but definitely worth checking out if you're into the genre.
• Sticking to the theme of the medical world: Allison Behringer's Bodies, a documentary-style podcast in which every episode begins with a medical mystery in women's health, features a remarkable series of stories.
• KCRW's Welcome to L.A. is one of my favorite listens all year, and I wish there were more shows like it: memoiristic, observant, well written, and unafraid of looking foolish.
• Everything Is Alive, Radiotopia's new show from How to Do Everything's Ian Chillag, is an offbeat and incredibly strange improvisational podcast that should capture the heart of anybody who loves deadpan stuff.
• Maximum Fun's Bubble is a worth listening to if you fancy a mix of Portlandia and Buffy the Vampire Slayer with a sprinkling of Tavi Gevinson.
• Mission to Zyxx, which bills itself as an improvised sci-fi comedy sitcom, recently kicked off its second season, and it's super-enjoyable. A great playlist addition for fans of Hello From the Magic Tavern.
• Punch Up the Jam is very good. Great hangout, and even greater concept.
Don't miss Vulture's picks for the best TV shows of 2018, the best movies of 2018, and the best albums of 2018, and more of the year's pop-culture gems.