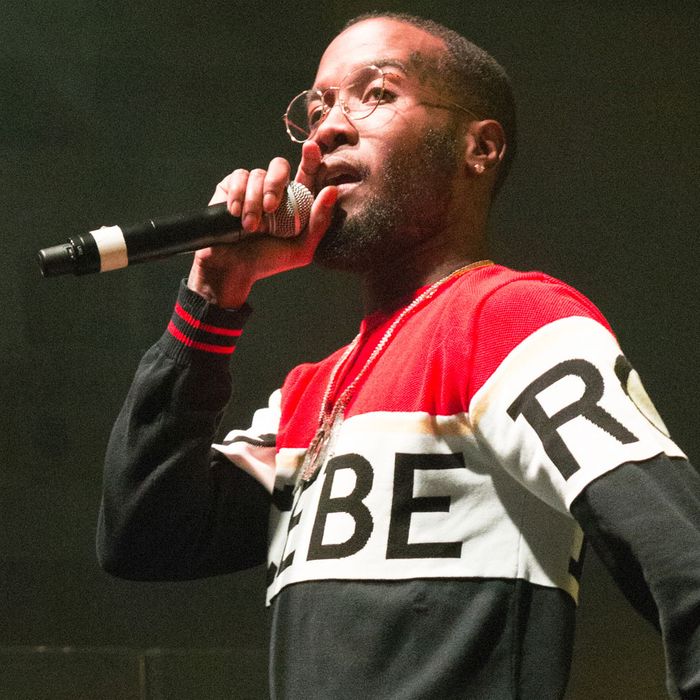 One day Shy Glizzy is going to make a classic
Photo: Brian Stukes/Getty Images
Every Wednesday, Vulture runs through the best, most interesting, and sometimes most confusing rap releases of the week (or so, if the week feels especially light). In this installment: underground tech rap from Homeboy Sandman and Edan, dark and heavy raps from Four Fists, fun but inessential work from Blocboy JB, and another major release from Shy Glizzy that isn't quite classic, but is proof that he'll have a classic under his belt soon enough.
Homeboy Sandman & Edan, Humble Pi
When The Good Sun hit in 2010, it seemed about as mold-breaking as something so fundamentally conservative could be. The core of that record, which vaulted the Queens-bred Homeboy Sandman from an underground favorite in New York to the darling of indie rap fans nationally and beyond, was revivalist to the point of occasionally lapsing into the retrograde. What saved it from being stodgy was Sandman's technical virtuosity and brimming wit; he was nimble and playful enough to take old forms and wisdoms and wield them in a way that felt new and even, occasionally, subversive.
Five years before The Good Sun, another indie album — stranger, more mythic — had taken on a life of its own in another way entirely. Edan's Beauty and the Beat is decidedly of its era and almost certainly would stop short of phenomenon status if it were released either ten years earlier or later, but its psychedelic bent (and its creator's monastic disappearance after its release) took care of that.
Humble Pi, which sees Edan furnishing Sandman with seven delightfully lean, off-kilter beats, is smart and self-contained and, more often than not, incredibly fun. "The Gut" sneers and "Rock & Roll Indian Dance" careens; "That Moment When … " is densely paacked with detail and with a blanket kind of regret. At his best — and that is where he is, here — Sandman is a virtuoso, and Edan unmoors him frequently and radically enough to make Humble Pi an essential entry in both of their catalogs. I like to imagine this record coming out in 2000, at the height of the indie-mainstream wars, just so I could witness the hysteria over Sandman rhyming "below zero" with "no heroes," like Jay did on the Dynasty intro.
Four Fists, 6666
Anything you read about the rapper P.O.S will mention his punk background and go on to discuss how he brought the sensibilities of one scene to another, but one of the strongest threads in his early work is the argument, implicit or explicit, that he — someone whose experience may not have been perfectly reflected in The Source or elsewhere — has equal claim to this genre. (You can loop back to "I'm trying to save my baby cousin from Jermaine Dupri.")
His album from 2012, We Don't Even Live Here, was thwarted by its author's kidney failure and by Kendrick Lamar's Good Kid, M.A.A.D City, which dropped the same day, but it presented a tension: one of the most ambitious and technically gifted artists in the underground was ready for a bigger, broader national audience that was only intermittently ready for him. Mitigating factors aside, the record was ahead of its time, anarchic in its sound and ideology, a mix of dance and apocalypse that had an outlook on the Obama years too grim for festival audiences of the moment.
Four Fists pairs P.O.S with Astronautalis, the Jacksonville native whose albums around the turn of the decade refracted what was going on in Minneapolis in new ways. The album is dark, distorted, and absolutely vicious at points, but its prevailing quality is its control: The music swells and stops on a dime, the rappers are impossibly precise without ever coming off stiff or over-rehearsed. 6666 comes out at what feels like (but almost certainly isn't) the apex of whatever weird fire is engulfing the world lately. It's a deeply poised record that creates chaos just so it has something to cut through and is packed with melodies strong enough to do so. It imagines rap as the point of a spear; it cackles at unread emails. The timing is superb.
Blocboy JB, Don't Think That
Simi, the debut album from a very talented 22-year-old from Memphis named Blocboy JB, is one of the year's best rap records, especially if you understand that it's actually a dance record. That's not just in reference to the Extremely Viral "Shoot" dance; the whole LP is lean and upbeat and propulsive in a way that treats your skeleton like a marionette. This stopgap follow-up, a seven-song EP called Don't Think That, is not essential listening, but that's part of the fun. Blocboy is not a particularly athletic vocalist, but his verses overflow with a sort of subtle, slightly askance humor: he sounds a little disgusted, on "Club Rock," that he even has to explain that both his jeans and his hats are fitted.
Shy Glizzy, Fully Loaded
Last year, when Shy Glizzy so rudely snatched GoldLink's hit single out from under him, it seemed that the D.C. native might finally be catching the break rap fans have assumed was inevitable since his early, massively promising efforts. But Glizzy did not skip up to the stratosphere. Instead, he returned with the deceptively-titled Fully Loaded, which unfurls slowly and rather methodically. The album is overstuffed with features (despite bigger names, newcomer Quando Rondo comes off particularly well) but, as has always been characteristic of Glizzy's work, feels diaristic. Glizzy is a strange nexus of different artistic bents: he's steeped in the sounds that work in rap radio right now, but also loops back to a widescreen vision of what clear, carefully written, album-oriented music can be. This is not his masterpiece — but a Shy Glizzy masterpiece now seems inevitable.