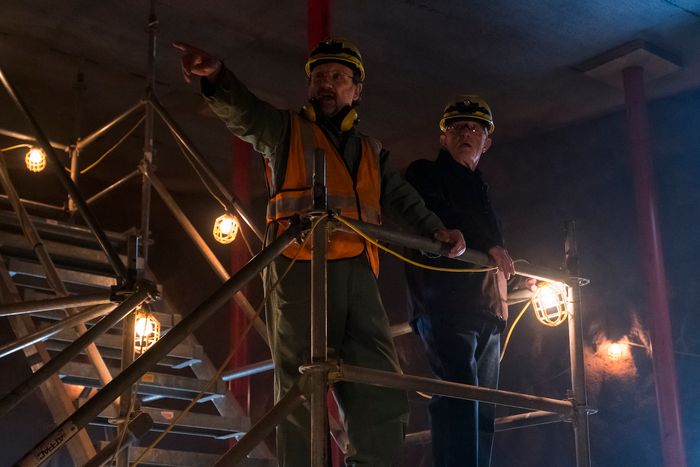 Rainer Bock as Werner, Jonathan Banks as Mike.
Photo: Nicole Wilder/AMC/Sony Pictures Television
Spoilers about Better Call Saul and Breaking Bad ahead.
With every episode of Better Call Saul, we've inched closer and closer toward Breaking Bad territory. In the fourth season, the ties between the two shows have especially come into focus: Jimmy has embraced his alter ego Saul Goodman, Tio Salamanca has his ill-fated bell, and Gus's iconic superlab is under construction, though its shiny red floors and spiral staircase will elude us until Better Call Saul returns for season five.
Gus Fring's $8 million underground meth manufacturing lab, first unveiled in Breaking Bad, is an engineering masterpiece: Hidden underneath an industrial laundromat and fitted with a state-of-the-art filtration system to evacuate toxic fumes, it's capable of cooking between 100 and 300 pounds of meth per week. For a Breaking Bad diehard fan like production designer Judy Rhee, it was an "intimidating" dream job to join Better Call Saul last season and learn it would be her responsibility to reconstruct this massively important space. "It was thrilling when I first talked with the executive producers of what was coming up, but also daunting," Rhee told Vulture. "Knowing there is such a following to live up to those expectations, you know it's going to be so closely scrutinized."
With a team of approximately 75 set designers, artists, and carpenters, Rhee began by consulting with a structural engineer to figure out how Gus (Giancarlo Esposito) and Mike (Jonathan Banks) would have actually excavated the space and built it out. "You start with the dimensions, the size, all of the details of what the old set was and we did a lot of research in terms of geology. What is the actual earth underneath? What is in this area? What is the soil? How many rocks? How long would it really take?" Rhee said. "We had limited stage space, so we had to work backwards to get the logistics correct. This is where the staircase would be, where the entrance would be, and then also to match it to the laundromat facility, which is a real location."
Because Gus Fring's team needs to build the superlab without damaging the laundry or attracting any attention in the neighborhood, set designers also had to consider the small details, like how they'd remove all that dirt. In the world of the show, Mike finds a characteristically elaborate solution: He contracts out the job to German structural engineers who agree to live in seclusion at a warehouse containing two double-wide mobile homes, and who are transported in secret to the site every day. But the project falls behind schedule — eight months in, it's not even halfway complete — and then hits a big obstacle when workers discover a boulder sitting where they planned to install an elevator shaft.
The idea for the boulder problem came from Rhee's team, after showrunner Peter Gould asked for suggestions on issues that could arise during construction. ("That isn't really prevalent in that area, so we took a little liberty with that," she admitted.) Then, they sculpted and painted the boulder to make sure it was camera-ready before it got blasted in "Wiedersehen," the season's penultimate episode. "To make it look realistic took a lot of finesse and that's very challenging in a TV schedule," Rhee said. "You have a very short amount of time to make it look as real as possible."
By the end of Monday's season finale, "Winner," Gus is far from being free of the Mexican drug cartels, as evidenced by the huge hole that remains in the wall, and the fact that Mike had to kill foreman Werner Ziegler (Rainer Bock) after he escaped for a quick weekend with his wife. Gale Boetticher (David Costabile), who meticulously designed the lab per his specifications as lead cook, claims that he can work in the premises anyway, but Gus, ever the perfectionist, counters, "Not until it's ready." Rhee agrees: "Gus and Mike got sidetracked with their personnel issues, which they still have to figure out. There's still a lot of work to do to get to the lab that you remember."
Indeed, it will be a while before we see the finished space made famous in Breaking Bad, where "Blue Sky" meth was manufactured and shipped out on Los Pollos Hermanos trucks, concealed in buckets of frying batter. Of course, it's certainly years away from being the lab that Walter White (Bryan Cranston) and Jesse Pinkman (Aaron Paul) spectacularly blew up after Walt kills Gus in Breaking Bad's season-four finale. But still, Better Call Saul is closer than ever to the show that inspired it: At the end of "Winner," Jimmy's (Bob Odenkirk) license to practice law is reinstated and he announces he's officially changing his name to Saul Goodman.
"It's getting close and it's so exciting!" Rhee said, though she isn't sure if she will work on Saul next season. "I know what it means to the fans of both shows, so I'd love to see the building of the lab through. Let's see how the schedules work out."