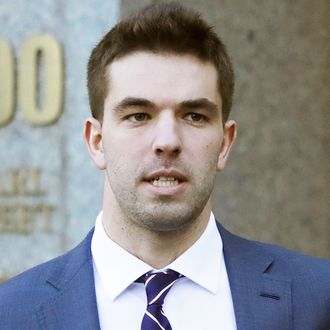 Billy McFarland.
Photo: Mark Lennihan/AP/REX/Shutterstock
Prosecutors are pushing back against Fyre Festival founder Billy McFarland's request for leniency because of "untreated mental illness" — arguing he deserves up to two decades in prison for duping investors out of some $26 million. The Manhattan U.S. Attorney's Office argued Wednesday that McFarland, who will be sentenced on October 11, is a "consummate con artist" whose "actions reveal a profoundly greedy, self-absorbed man focused exclusively on himself." They highlighted how McFarland pleaded guilty in July to carrying out yet another scam — a "sham ticket-selling business" that falsely promised access to events such as the Met Gala — while free on bail.
Prosecutors have asked the judge to sentence McFarland from 15 to 20 years in prison, maintaining his actions "demonstrate a lack of remorse and acceptance of responsibility."
They also argue that "in the unique circumstances of this case, there is a heightened need for specific deterrence for this defendant, whose propensity to commit crimes is extraordinary, and to protect the public from his scams."
McFarland's lawyers, who did not immediately respond to requests for comment on prosecutors' filings, recently argued that his crimes stemmed from his frayed mental state rather than maliciousness — calling him a "young man who is redeemable."
"The evidence suggests that Billy has a good heart that has been led astray by poor judgment and by untreated mental illness," they argued. "The evidence suggests that this is a case where the Court can fashion a sentence that will appropriately punish the defendant without effectively throwing his life away."
Prosecutors shot back in their filings that the first time McFarland's lawyers asked for leniency, there was "no explanation of the defendant's mental illness."
His lawyers "also made no mention of the manic episodes that allegedly occurred during the defendant's formative years, the years he defrauded Fyre investors, and the time period after his guilty plea; these manic episodes are now described in detail in his second sentencing submission and cited as the reason for his criminal conduct," prosecutors also said.