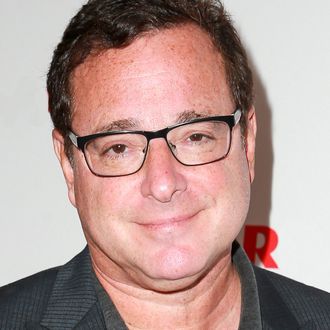 Bob Saget.
Photo: Rich Fury/Getty Images
Bob Saget is returning to ABC to host a series filled with funny home-video clips, but it's not the kind you can watch with your kids. According to Variety, the network has ordered a new series hosted by Saget titled Videos After Dark, which will feature clips collected by the team behind America's Funniest Home Videos over the years that were deemed "too risqué" to air during the show's traditional Sunday evening time slot. Unlike AFV, Videos After Dark will not involve a contest or prize for the best clips, but instead will include Saget performing material throughout the show, which will have a "nightclub-style feel" with a studio audience. As for the clips that the team behind AFV has been saving up for this show, creator Vin Di Bona says, "We've been collecting them since day one … We've already had meetings with (ABC's) censors already, showing them the clips we have and for the most part we're getting their blessing." Videos After Dark is slated to debut at a 10:00 p.m. slot sometime in 2019.
In addition to the new series, ABC has also handed out a double-season renewal to AFV, which will keep it on the air for seasons 30 and 31. Saget hosted AFV for its first eight seasons in the '90s during Full House's run on TGIF, starting with the series debut as an hour-long special in 1989. Alfonso Ribeiro has served as AFV host since 2015.