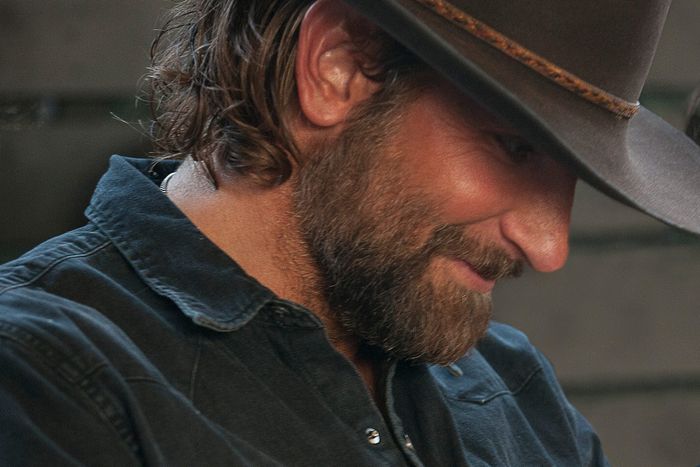 Bradley Cooper's bronze skin and rosy cheeks —
yee-haw!
Photo: Warner Bros.
As Jackson Maine in A Star Is Born, Bradley Cooper doesn't look like himself. He's weathered, and borderline bronze, with a graying beard and a sexy weariness. He looks like he's seen some things, like he's had a few too many, like he's been up all night and out of it all day. "Sooooo inappropriate that it only took 20 minutes for Bradley Cooper and his long hair and beard to trap me," I jotted down in my notebook the first time I saw the movie. As he sings in Jackson Maine's twang in the opening scene, "Black eyes open wide / It's time to testify." But Jackson Maine's eyes aren't black, they're blue — blue enough to inspire a thousand Benjamin Moore swatches, as blue as anything in Call Me by Your Name, even bluer when they're peeking out from his tan skin. His beard is resplendent, his voice full-bodied. But from where did this special effect — the tan, the eyes, the beard — come?
I am a serious journalist, so I decided to investigate: What did Bradley Cooper do to look so fuckin' hot in A Star Is Born?
Turns out we can all thank Ve Neill, the Oscar-winning makeup artist, who did all of Cooper's makeup. (Lady Gaga's usual team, Neill said, handled Ally's makeup.) "I saw the way he was looking, he had his beard and his long hair, and I said, 'You look terrific. It would be really nice to give you a tan, scruffy look, so you look weathered and different than you normally look,'" she said about her first meeting with the actor-director. So she decided to take his look from Hollywood auteur to Arizona cowboy. From darkening Cooper's beard to making his eyes look (sexily) bloodshot, Neill talked Vulture through transforming the actor-director into the country rocker.
"Bradley was so gracious and lovely, what a dream to work with. He was just an absolute treat," said Neill. "It's funny, throughout my career I've mostly worked with men. I like making men look as good as they can possibly look." Cooper agreed with her suggestions immediately. "When I saw him with that long hair and that beard, I just went, 'Oh yeah,''' she said. "He agreed, he said, 'Yes, I want to be tan.'" The color wasn't so much sun-kissed as it was sun-make-out: Neill had Cooper spray tan during the shoot, and would tan his face and body every day with BeautyBlender sponges before shooting. "I would get him a spray tan, maybe once a week. It doesn't seem like I could get him to do it every week, but I did tan him everyday from his waist up," she said. "We never knew how far up his shirt would be rolled up, or he would have it off, or whatever. We just wanted to keep a constant tan through the whole entire movie. I used a self-tanner on him."
The self-tanner was mixed with a moisturizer and a shiny Alba sunscreen, and topped with Tom Ford's bronzer "on all the high points" of his face to secure that rosy Arizona glow.  I told Neill I thought the tan was hot, because obviously! Giddy up! "I thought it was really hot, too," Neill said.
For the scenes where Jackson Maine was drunk or hungover, Neill used products she described as "like a glazing gel" to darken his eye area. On days when he needed to look especially ragged, Neill used a menthol blower, which also made his eyes more blue. "It gave his eyes a really glazed, bloodshot look," she said. "I would go up and blow the menthol blower in his eyes, which would make his eyes really watery and hopefully really bloodshot."
Neill also darkened Cooper's beard to make Jackson Maine look more intense. "Bradley has a lot of gray in his beard and a lot of blonde, and I wanted to kind of tone that down a little bit," she said. "I didn't take out all of the gray because I wanted him to have a little bit of it in the sides, but he wanted me to remove quite a bit of the gray and the blonde so that he just had a darker look to his face, which I thought was a perfect look for the character."
In a memorable scene modeled after one from the 1976 version, Ally (Lady Gaga) and Jackson take a bath together, and she pastes electrical tape eyebrows onto his face, plus puts eyeliner and mascara on him. Did Neill have a hand in that scene? "Well, she was doing it," Neill said. "And I was wiping it off!"