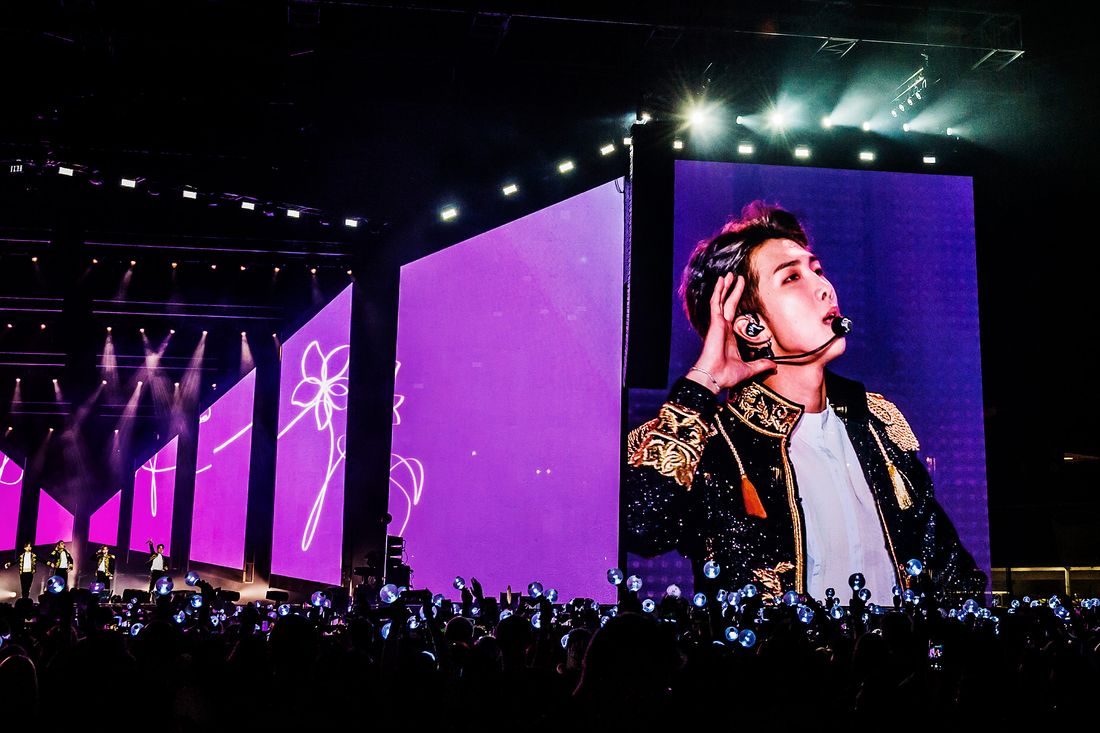 RM listens to the Army.
Photo: Dina Litovsky for Vulture
I saw them first on the 7 train going into Queens, wearing hoodies emblazoned with "Mic Drop" and earbuds plugged in like they were fighters getting ready for a match. Soon, they were everywhere, 40,000 strong, of every demographic, but mostly young women — Asian, black, Latina, Arab, Native American, white, and every ethnic category those words could possibly mean — descending on Citifield, the epicenter of K-pop. Because this Saturday night BTS, the seven-member boy band from South Korea, would perform in one of the only arenas in New York City big enough to contain them, where the truly hard core had been camping out in the parking lot for a week. If BTS's Billboard Music Award for Top Social Artist last year seemed like a passing curiosity, 2018 was the year for proving all the doubters wrong: BTS won the BBMA again, spoke at the United Nations about self-love, and most importantly, scored two No. 1 albums with Love Yourself: Tear and Love Yourself: Answer. They were here to stay, and their fans, known as the Army, were going to celebrate. "Let's hope my daughter doesn't pass out," one mother said to me before the concert.
Everything about BTS's rise is improbable. They weren't the Korean pop group that was supposed to make it — not in Korea, and certainly not in the U.S. Most Korean musical acts from the past decade have come out of the Big Three — the record labels SM, JYP, and YG — and are highly engineered for world domination. Each member is a moving part with a marketable skill designed to hit a different demographic subgroup or national market. BTS's success is partly due to the fact that their goal ostensibly wasn't about mass appeal: The group began in 2010 when a small start-up company called BigHit Entertainment, founded by Bang Shi-hyuk, first signed RM, the lead rapper of the group, after listening to a demo tape he did when he was 15 years old. Over the next few years, BigHit gradually added the rapper Suga and street dancer J-Hope, before eventually rounding out the group with four vocalists, "worldwide handsome" Jin, V, Jimin, and Jungkook. RM is the only one who speaks English fluently, and they've said that they have no intention of releasing songs in English. In fact, one senses that doing so would diminish their appeal.
BTS's mythology is about this sense of authenticity. The members, led by RM, write and produce many of their own songs, and their early lyrics, since their official 2013 debut, are suffused with social awareness and a generational unease: They rapped about the suffocating effect of the Korean educational system, anxiety, depression, finger-pointing from older generations, and a cultural obsession with materialism. One of the predominant images throughout their music, since their album debut with 2 Kool 4 Skool, is that of the baepsae, a fluffy, compact bird with short legs known as a crow-tit in English. The baepsae's foil is the hwangsae, a stork that has it easy with its long stride. It's a very Korean analogy, but a broadly relatable one in a world increasingly divided by the haves and have-nots. In the song "Silver Spoon," Suga raps, "Our generation has had it hard / We'll chase them fast / Because of the storks the crotch of my pants is stretched tight / So call me baepsae."
Moreover, BTS has been active on social media from the jump, recording video diaries, post-concert chats, and responding to questions on their fancafe and Twitter. This gave the sense, particularly if you followed them early on, that you were in the trenches with them. What results is an effective feedback loop: Army members are the ultimate cultural ambassadors, translating BTS's Korean variety-show appearances into various languages, making video compilations (here's ten minutes of Jin calling himself handsome), and evangelizing. What's good for BTS is good for the Army, and rooting for them feels like rooting for yourself. Indeed, BigHit often makes sure to send out news updates through social channels like the official fancafe, as well as official press releases, not just because it's an effective publicity mechanism, but because preserving a direct line of communication to the Army is crucial to the BTS experience.
Even though BTS is a reigning pop act, selling out stadiums only the likes of Beyoncé could sell out today, their fandom takes on the posture of an underdog in the U.S. When I talked to BTS fans, old or young, they admitted that public fawning is still awkward, despite K-pop's growing influence. A group of students from Vanguard High School in New York told me that their peers would tag them as Koreaboos for liking K-pop, but their dismissal only seemed to make them firmer in their devotion. "A lot of fans get embarrassed when they get asked why they like K-pop. I feel like people are too judgy nowadays. Why do you like rap? That's the same thing with us," said Khadiga Ghirani, a ninth-grader at Vanguard. "The more people that like [K-pop], the better, but also, the worse. Whenever I hear, Oh I just got into K-pop, somewhere inside of me is a burning fire: Be my friend. Also, I found out first. Back off."
While I was waiting in line outside the arena, one mother, who drove up with her daughter from North Carolina, said the music helped her daughter manage her own anxiety and brought them closer together. They could only afford one ticket, so she said she would sit outside and listen while her daughter was inside sending her videos. (Her bias is Taehyung.) After the concert, two other women told me that loving BTS was an escapist release from the news cycle or American racism, and that the cross-cultural, global nature of the fandom was part of the experience. "Our love for BTS is what unites us," said one. "It feels like such a break. Here, it doesn't matter what I look like or where I come from."
Online, that power is fearsome and vigilant. The boundaryless world-building of the internet has allowed the Army to flourish without regard for nation-states or cultural reproach, driving clicks, votes, and purchases (the music video for their most recent hit, "Idol," earned over 56 million views within its first 24 hours). They're protective of each member and assiduously chronicle missteps journalists (often non-Korean speakers) make. Most recently, the Army took a British writer to task for mocking RM's English — largely self-taught, and as he says, learned from watching Friends — during his U.N. speech, and what they sensed as a general disrespect toward the group. (The U.K. Times writer wrote that RM had "baffling syntax" and sounded more like Joey than Chandler.) Tamar Herman, a writer at Billboard who regularly covers K-pop and BTS, has been dinged a couple of times by the Army. She tweeted an apology for failing to highlight one of the members, Jungkook, in her otherwise glowing review of the Citifield concert.
Onstage, all of this translates to a humble showmanship from BTS. The music is pure pop excellence, spanning musical genres with a distinctly Korean flair, ranging from their big, clubby bangers like "Idol," playful songs like "Anpanman" based off the Japanese anime, and soaring ballads like "The Truth Untold" sung by the vocal quartet. The high of BTS comes from watching seven highly skilled, very good-looking Korean men do what they're best at: sing, dance, rap, and do finger hearts for the cameras. Watching them has a transformative effect, making you feel — if you're old — like a kid again. One mother from Connecticut told me that she brought her 11-year-old daughter here because she remembered just how much it meant for her to see Menudo when she was a kid growing up in Panama, and wanted her to have the same experience.
And part of the joy of a BTS concert is also watching the Army react, whether it's seeing the waves of $57 handheld Bluetooth cascade through the stadium or hearing their chants echo through the air. The most deafening screams came when BTS addressed them, simply, as "Army." BTS innately understand that they owe their success to their fans, and that theirs is the result of a tight symbiosis: At the end of the concert, RM told them that they should "use BTS to love yourself," the same way the fans had taught him to love himself. This isn't a group that thinks it's bigger than its fans.
As fandoms have become increasingly important markers of identity in the digital age, the object of affection — like Taylor Swift or Rick and Morty — can suddenly become a fraught Rorschach test for personality traits or political inclinations. To be a BTS fan right now in the West means feeling like an underdog and a world champion at the same time. You can be teased by your peers, but still watch your boys play on one of the biggest stages in North America. There isn't a better Cinderella story in K-pop than BTS, because if these seven kids from various corners of the Korean peninsula can make it against all odds, then why not you?