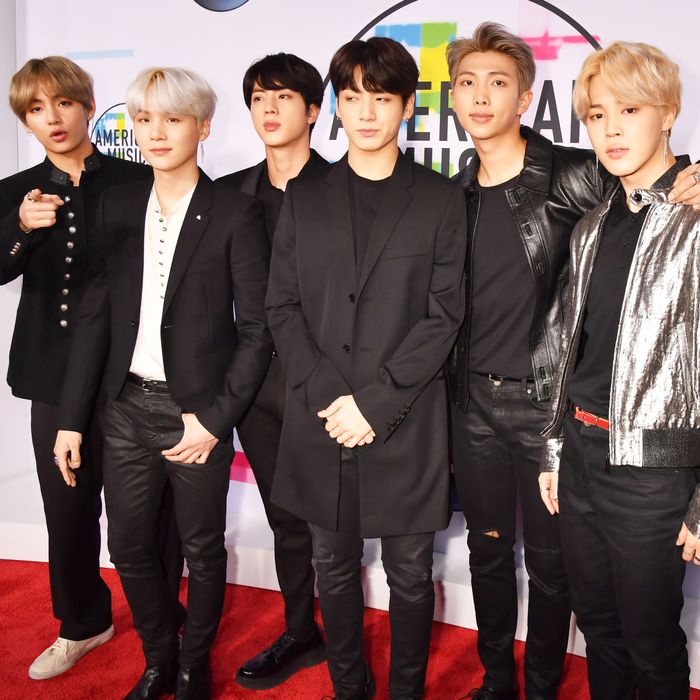 BTS has renewed their contracts with BigHit for
another seven years
.
Photo: Jeff Kravitz/AMA2017/FilmMagic for dcp
There was already no stopping K-pop titans BTS, but now it's a done deal. Hot off their historic Citi Field concert, the seven members of the group — RM, Suga, J-Hope, Jin, V, Jimin, and Jungkook — have renewed their contract with their management company BigHit for another whopping seven years. What's more, they've renewed their contracts a year early, bringing their future with BigHit to eight years total. A press release from the company likens the deal to that of "selective sports stars," a fair comparison given the way the K-pop machine has long coached its stars like competitive athletes, training them from youth in the hopes of winning semi-metaphorical gold medals. (BTS, as it were, tend to go platinum.)
Though a seven-year commitment might seem staggering to Western audiences, it's typical of K-pop groups, for whom the Korea Fair Trade Commission has set the cap at seven-year contracts, for better or worse. (BTS had already been signed to BigHit since 2010; RM was the first.) The press release even goes so far as to get ahead of any accusations of exploitation, saying that part of the renewal will mean the creation of a "fully dedicated team for BTS [to] provide systematic support and investment for the band's career." In other words, it's not intended to become a "slave contract" like so many others before them and seems to be a vote of confidence to keep the group together through any hiatuses the country's mandatory military service might force if they aren't granted exemption. Prior to the announcement, fans had feared the "seven-year curse," the often-valid superstition that when a K-pop group does not renew its contract after seven years, they usually break up. In signing for another seven years, through 2026, with BigHit, BTS have put those rumors to bed. They're here forever.
Their statement: "We respect our mentor, producer Bang Si-Hyuk who has continued to show us a vision for our future from even before debut and have helped us form our perspective of the world and music. With Big Hit Entertainment's support, we'll continue to strive to give our best for fans all around the world."