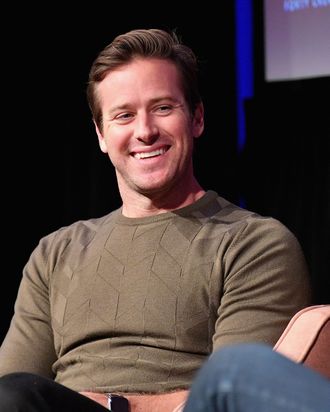 Armie Hammer.
Photo: Dia Dipasupil/Getty Images for SCAD
At the SCAD Savannah Film Festival on Monday, Armie Hammer again confirmed that the Call Me by Your Name sequel is totally, fully, and definitely happening. "Luca [Guadagnino] has walked me through the movie: where it starts, where it goes, where it ends, all the characters, and everything that's supposed to happen. We know this, he's basically broken this down for us," Hammer told the audience during an "in conversation" event. But the next installment of the love story between Hammer's Oliver and Elio (Timothée Chalamet) might be a few years away: "So chronologically in the story line, it doesn't happen right after the first one. There is a gap. So Luca wants to wait so that we age a bit more so that gap makes sense, kind of like a Linklater thing."
Hammer also said he "doesn't know" if frequent Guadagnino collaborator Dakota Johnson will play his character's wife in the sequel. (While promoting Suspiria, Guadagnino told The New Yorker that Hammer's Oliver will probably have five kids when the sequel picks up, and that he'd like Johnson to play his wife, "a New England kind of hoochie woman." Sure, okay — but will older Armie eat the peach in the sequel?