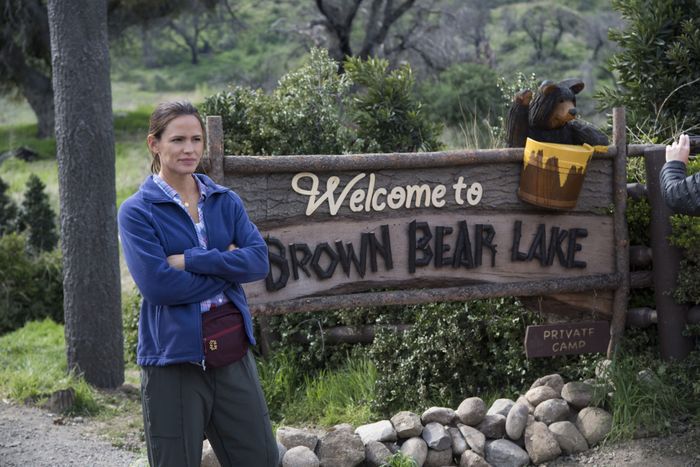 Photo: Anne Marie Fox/HBO
Welcome to Walt Jodell's 45th birthday camping trip, lasting four nights at the Groupon rate! Chances are you're here for one of two reasons: To see what executive producers Lena Dunham and Jenni Konner are up to post-Girls or to witness Queen Jennifer Garner's return to television. If the former, know that, like Girls, you will be spending time with kind-of-awful people on HBO's Camping, people who will have you immediately questioning both your sanity and why they are even friends with each other.
If you're the latter, you should know that Camping found the exact opposite of Sydney Bristow in Kathryn McSorley-Jodell. (Seriously, if you're ever feeling irritated by this show, take a deep breath and imagine Garner's two characters having a conversation — you will laugh so hard, I promise you). Garner plays the fanny-pack–wearing, very-thick-binder-for-only-a-four-day-trip–carrying Kathryn with enthusiastic attack. Still, it's hard not to think of Walt's wife and organizer of this whole get-together as anything more than a cartoon character. There's no way a woman this extreme and grating exists in real life — and if there is, there is certainly no way that multiple adults would willingly agree to spend a long weekend with her in the woods.
Since the pilot episode of Camping is less about a real plot and more about introducing our campers as well as what is sure to be the main source of tension for the series, let's talk about our not-so-merry band of characters, shall we?
You'd think you'd know everything you need to about Kathryn and Walt (David Tennant) by the simple facts that 1) they named their son Orvis and 2) they brought Orvis along with them even though Kathryn refuses to let anyone else bring kids ("Should I just open it up for people's dogs, too?"). But to really understand their dynamic as a couple, you should also know that Kathryn had a hysterectomy, and enjoys reminding people about it, the chronic pain she suffers from it, and how her pelvic floor is doing. Because of this surgery and its side effects, Kathryn won't have sex with her husband, despite "being cleared for takeoff" and Walt's persistence. Oh, not to mention, they wear matching pajama sets. You totally see them, right?
The first guests to arrive are Carleen (Ione Skye), Kathryn's sister, her partner Joe (Chris Sullivan), and Joe's daughter Sol (Cheyenne Haynes), who was definitely not on the guest list, but she brought a knife to chorus, so, you know. Carleen seems to mainly ignore Kathryn's condescension and insults covered with smiles, but something tells me she'll eventually reach her breaking point. At the moment, she's more concerned with Joe, who is supposedly 30 days sober but judging by the fact that he left his chip as a tip at Denny's, doesn't seem all that committed to it. They bring with them the news that one of the other couples slated to be there, Margaret and Miguel, have separated after Margaret ran off with a waiter from 9-0-2-1-Pho. But no one informed Kathryn of this news — and she's their touchstone! People go to her for things! — so she's reeling. It's easy to see that she's not really upset over the news of her friends' divorce, but that they might be trying to weasel out of paying for this weekend. So anyway, Carleen and Joe aren't really adding much to the party.
Hey, what about the next couple? Yes! Walt's best buddy George (Brett Gelman) seems like a good time. At least he gets that this trip is supposed to be about celebrating Walt and not about celebrating how good Kathryn is at celebrating Walt. And he cracks open the beers! That's a good dude. But don't be fooled — he brings with him his wife, Nina-Joy (Janicza Bravo), and with her some emotional baggage. Now, Nina-Joy actually seems like a nice, sane human being. She also has great campwear style. Within minutes of arriving, we learn that she and Kathryn had some kind of falling out — Kathryn's fault, no doubt — and Kathryn wants to use this weekend to repair things. Nina-Joy isn't here for that and she wants Kathryn to drop it. "I'll see if I can do that," Kathryn replies. She most definitely will not be able to do that.
The fun doesn't really start until the final couple arrives — as a surprise, in the dead of night. It's so much of a surprise that Kathryn assumes it's a bear and grabs the BB gun campground manager Harry (Bridget Everett, having a blast) forced upon them and starts shooting wildly into the dark. She ends up hitting not a bear, but Miguel (Arturo Del Puerto)! He's come after all, and he's brought his new girlfriend Jandice (Juliette Lewis). Oh, you guys, you may have come for some mid-40s Girls or Queen Jennifer Garner, but if you decide to stay, it will most definitely be for the Juliette Lewis of it all.
If ever there were a person to play a character with the name Jandice who is a DJ, Reiki healer, person who makes and sells her own net cheeses, model for a figure-drawing class, and a notary, it is Juliette Lewis. Immediately, you know her carefree lifestyle — she and Miguel met at a weird, glittery rave she hosted in her own loft — is a complete affront to Kathryn McSorley-Jodell.
The tension, albeit one-sided at this point, is obvious from breakfast the morning after their arrival. Jandice speaks out against vitamins. But vitamins saved Kathryn's life! When she hears about the hysterectomy, Jandice laments the loss because "we carry so much life in our uteri," and she recommends some pelvic floor workouts. You'd think that would be Kathryn's favorite subject to chat about by the morning campfire, but she cannot even believe Jandice would act like she knows anything about what Kathryn's going through.
Before Kathryn flies off the handle, they move on to their first activity of the day, per the very detailed itinerary: bird watching! But as soon as the group comes upon a lovely little lake, Jandice is stripping down and going for a swim, with the rest of the group — including Walt — following her into the water. Swimming seems much more fun than mandatory bird watching. And if you weren't sure that Kathryn and Jandice were opposing forces, take in this final scene: Jandice standing in the water completely naked, having the time of her life, and Kathryn up on the shore — arms, legs, head, and even neck, all covered up — yelling about safety precautions. It's going to be a long four days.
Campfire Stories:
• If you didn't hate Kathryn already (I think we're supposed to love to hate her, but I have a feeling that may become difficult), please note that she cannot stop talking about her Instagram account — "it's cresting 11,000 followers."
Walt's clues to his young son Orvis during a game of Heads Up in which the answer is William Hurt — Children of a Lesser God; Damages, season two—are a thing to behold.
Was Jennifer Garner hired because she could deliver the line, "Christ on a cracker. Do not point a gun at your father, ever," so perfectly?
More Jandice: "We found this tooth in the bed and it wasn't, like, either one of ours. Such a good omen, huh?"