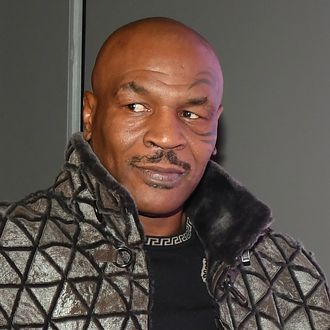 Photo: Ethan Miller/Getty Images for SLS Las Vegas
Take whatever you associate with Mike Tyson (boxing, ear biting, fervent love of pigeons) and toss it out wild into the marijuana fields like the rich, hearty manure it is. That's probably not how marijuana is grown, but if Tyson succeeds in getting his new TV show made, you'll find out for sure one way or another. According to Page Six, Mike Tyson is reportedly shopping around a scripted comedy series based on his life as as a burgeoning weed magnate, entitled, of course, Rolling With The Punches.
The former fighter, proprietor of California cannabis farm Tyson Ranch, indicated that he'll play a fictionalized version of himself on the show, à la Curb Your Enthusiasm's Larry David, if Larry had a weed ranch to promote, while comedian Russell Peters will serve as something of as a sidekick as Tyson's "useless best friend."
Said the fighter, "It's simple. I'm playing a retired boxer who is growing marijuana. It's basically me acting like me, so people can get a look at what my life could be like in different scenarios." Tyson and company have already been shooting the series, so if you were at Tyson Ranch and suddenly felt like you were secretly being filmed for a TV show … look, just because you're paranoid doesn't mean they didn't catch you wandering around the background of Mike Tyson's new weed farm scripted comedy.