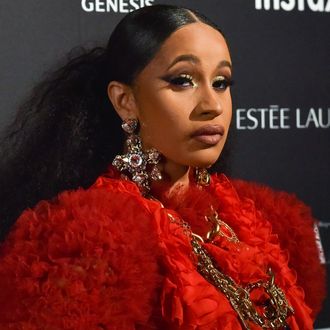 Cardi B at the
Harper's Bazaar
Icons Party.
Photo: Sean Zanni/Patrick McMullan via Getty Image
On the latest episode of her Beats 1 Queen Radio show, which aired today, Nicki Minaj once again brought up the skirmish she got into with Cardi B at the Harper's Bazaar Icons party — the one where Cardi allegedly threw a shoe at her. In the version of events presented today, Minaj said that her friend Rah Ali "beat Cardi's ass really bad," which included punching her in the head numerous times and causing her such injury that Minaj was actually upset at her friend for so savagely kicking the tar out of her industry rival. She also addressed the rumor that she leaked Cardi's phone number to fans so they would target her with harassment, saying she's never even had Cardi's number to give it out. Well, Cardi B has apparently been informed of Minaj's latest loose talk, and emphatically rebutted Minaj's claims in a ten-part video series now posted to Instagram.
In which Cardi asks Minaj, "Do you wanna be the victim, or do you wanna be the gangster?"
In which Cardi appears to share Minaj's phone number.
In which Cardi talks "facts" about "No Limit."
In which Cardi talks about lawsuits.
In which Cardi discusses leaked phone numbers.
In which Cardi shares receipts of harassing texts allegedly from the Barbz.
In which Cardi addresses who is trying to stop whose bag.
In which Cardi says she is, in fact, helping Minaj get her bag.
In which Cardi says she's ready to settle this disagreement however Minaj wants to.
In which Cardi talks about respect.
Update: As you will not be at all surprised to hear, Nicki came back swinging Monday night on Twitter and via Instagram comments.
After which Cardi came right back with more receipts of her own. Buckle up, this is going to be a bumpy night …
Update: Okay, while they never ended up sitting down for that lie detector test to figure out whether Cardi B actually writes her own raps (or whether she ended up in a legit brawl with Minaj's friend Rah Ali during their dispute at the infamous Harper's Bazaar party or if Nicki did actually leak Cardi's cell phone number and so on and so forth), Nicki tweeted a white flag/got tired of arguing Monday night and Cardi seconded it on Instagram. Let there be peace on earth, and let it begin in the comments.