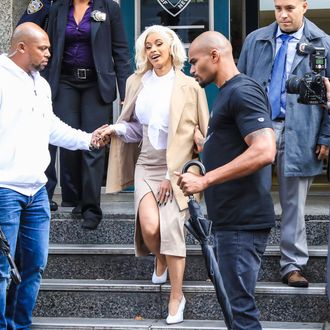 Cardi B.
Photo: Getty Images
Cardi B has been charged with assault and reckless endangerment in connection to an altercation at a New York strip club in August, TMZ reports. She turned herself in to police on Monday. According to TMZ, Cardi is accused of ordering her associates to attack two female bartenders, who go by Jade and Baddie G, at Angels Strip Club in Queens, believing that Jade had slept with Cardi's husband Offset, which Jade denies. The incident is reported to have happened on August 29 during a Migos performance at the club, which Cardi attended. Cardi allegedly threw a bottle at Jade and Baddie G, then had her crew attack the two women with more bottles and chairs, causing "serious" injury. Both women sought medical attention and reported the incident to police.
TMZ also reports that Jade had sustained "serious damage" from a separate attack on August 15, also allegedly ordered by Cardi B, when five of Cardi's associates showed up at the same strip club and started "grabbing Jade's hair, punching her, and hitting her with an ashtray." Jade claims that Cardi B had been "threatening" her for months, including in person at an Atlanta hotel and on Instagram, and that she was warned beforehand of the August 15 attack. On September 10, Nicki Minaj alluded to both attacks on her radio show following her and Cardi B's own NYFW fight. "You getting girls beat up because of what your man's doing?" she said. "This is not about Offset. There are women out here running hurt, running wild. There's a reason why she's doing these things."
TMZ reports that the second attack on the bartenders was "spontaneous" and not premeditated, but allegedly caused by someone throwing a drink. A lawyer for the victims tells TMZ that Cardi has continued to threaten the women and "clearly thinks her celebrity status is going to get her out of this." Cardi is set to be arraigned on October 29. Watch footage of her leaving the courthouse below.
This post has been updated throughout.