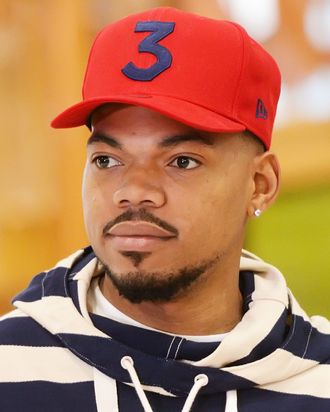 Chance the Rapper.
Photo: Daniel Boczarski/Getty Images
In 1976, a professor of political science at the University of Illinois named Milton Rakove penned "Don't Make No Waves, Don't Back No Losers,",an ice-cold analysis of the Chicago political machine under "Boss" Richard M. Daley. Rakove lays it all out: How the machine works, who gets what resources and why, and the process of how Chicago government works from the West Side to the White House. Today, Chicago's machine is still intact, but with Rahm Emanuel's announcement that he will not seek reelection in 2019, the forthcoming mayoral election will be notable for a variety of reasons. No less than 17 candidates have emerged to fill the void that Emanuel is leaving, and to date, the machine doesn't have a united candidate. Simply put: In Chicago, the times are changing.
Monday afternoon, Chance the Rapper tweeted a media advisory about an announcement taking place at City Hall the next day. That increased speculation that Chance himself would add his name to the growing list, a possibility that led to rampant media coverage. Chance had originally lit the flame of speculation earlier in the day when he tweeted "Im thinkin maybe I should," a reference to a lyric from an old song called "Somewhere in Paradise" in which he first mentioned the idea of a mayoral run. The concept of Chance running for office isn't the wildest thing to consider, given the history of celebrities holding public office in America. Hell, ABC just aired "The Mayor," a show about a fresh-faced rapper who loves wearing hats winning a mayoral election. In an ironic twist: The show's creator even admitted he took inspiration from Chance when developing the main character.
At the press conference Tuesday morning, Chance immediately put those speculations to bed by announcing his endorsement of Amara Enyia for mayor. A lawyer and community activist with a Ph.D. in education policy who serves as the head of Austin's Chamber of Commerce, Enyia briefly entered the 2015 mayoral race before dropping out.
With a calm confidence that some will mistake for arrogance, Chance opened by sharing his own political aspirations with the throng of media and fans (and one shocked couple coincidentally getting married at City Hall who unwittingly strolled into the scrum, photographer in tow). "I probably won't be ever running for mayor of this city." He also seemed acutely aware of his influence in the city. "I'd like to say, very narcissistically, if I back you, you have a chance, absolutely," he said. From the look of the packed house, he wasn't kidding.
When prompted to explain why he endorsed Enyia, he shared a common vision for the future of the third-largest city in America. "Amara and I share values and a vision for Chicago that includes equitable education for our kids, reforming our criminal justice system, and bringing new kinds of economic opportunities to our communities without causing displacement," Chance said. "I am proud to stand with her as we work toward bringing new leadership to City Hall. I believe that me and Amara share a vision on what Chicago could be. We believe in supporting the people at the bottom economically — people who have just been written off."
Chance partnered with Lyft just yesterday to release a video where he posed undercover as a driver to raise money for the Chicago public schools.
While his direct move is to endorse and support Enyia, Chance's larger mission is getting out the youth vote, claiming, "We will see the largest 18-to-25 voter turnout in Chicago's history." Could Chicago's political machine finally be getting rusty?