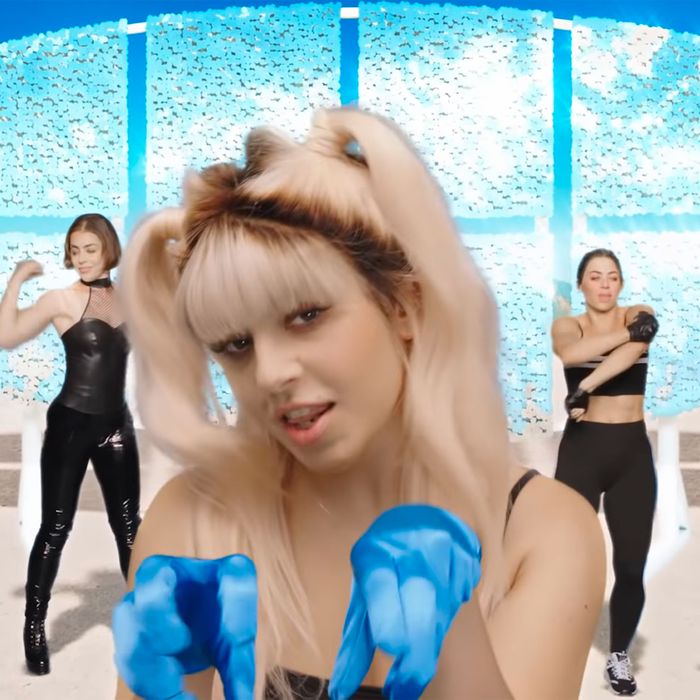 Not the Spice Girls
Photo: YouTube
Remember when nostalgia was considered lame? Specifically, a little under 15 years ago, when Wichita Falls pop-punks Bowling for Soup's cover of Baltimore kindred spirits SR-71's "1985" became a minor hit on the airwaves. (Interestingly, both bands dispute who came up with the idea to have Bowling for Soup cover the song — an instance where remembering the past felled both outfits.) Both versions differ slightly in their references to their titular year — swapping George Michael for Duran Duran, adding call-outs to snakeskin and The Osbournes — but the narrative stays the same: A married-with-children woman named Debbie retreats to her supposed '80s glory days to escape the drudgery of her modern life. Her kids think she's uncool, she's on Prozac, and she has what both bands refer to disparagingly as an "average life." Her escapism is cast as sad — pathetic, even — both by virtue of what she dreams of, and what she's yearning to run away from.
For most of the 2010s, taking a stance against nostalgia has been as fashionable as, well, listening to Bowling for Soup or SR-71. Over the past several years specifically, looking backward to past eras and pop-cultural artifacts has infiltrated nearly every corner of mainstream popular culture —from pure-and-uncut genre exercises like Stranger Things and Mandy to reboots of practically every ancient property imaginable, from Scream and Roseanne to Murphy Brown.
Musicians have always borrowed from past eras and sounds, but the veil of nostalgia has rarely weighed heavier than in the 2010s; chillwave — an electronics-heavy sub-genre of indie rock that zeroed in on hazy samples and flickering-VHS visuals — was initially met with derision but has since proven the most prescient musical movement of the decade. Big-ticket rock bands ranging from Paramore to the 1975 have pleasurably pilfered the '80s' clean, neon sounds with great success, rappers ranging from Joey Bada$$ to A$AP Rocky have gone back to the well of their genre's past stylistic tics, and recent strains of indie rock have resurrected the mix of sincerity and sneer that embodied the genre's '90s heyday. On their song "Like Dylan in the Movies," Scottish indie-pop act Belle & Sebastian (whose name, ironically, was taken from a 1960s French cartoon) told us, "don't look back"; over two decades later, looking back is all we do.
In 2018, even the world of pop — a genre of music so thoroughly consumed with the idea of "new" that its financial stability and cultural relevance practically depend on it — has trained its often-wayward gaze toward the past. The preoccupation hasn't so much borne fruit musically (when it comes to trends, very little has) as it has lyrically: over the past several months specifically, two pop artists have released singles named after years, their lyrics loaded with pop-cultural references and a sense of yearning for what's been left to memory. What's more, both musical expressions of nostalgia come from across the pond: there's British pop upstart Anne-Marie's "2002," which was something of a global hit earlier this year before seeing release in the U.S. in August, and futuristic pop genius Charli XCX's just-released Troye Sivan collab "1999."
Despite sounding radically different from one another, both "2002" and "1999" share a few things in common: for one, their lyrical concerns are anchored by pop-culture references that amount to literal namechecks and not much more. Anne-Marie and Charli both explicitly reference Britney Spears' "…Baby One More Time," a single from 1999 that also counts as one of a few anachronistic references on Anne-Marie's end, including an allusion to Jay-Z's 2004 single "99 Problems." "2002" and "1999" also use nostalgic visual cues to sell their respective "remember-when" flights of fancy. The video for the former features dance routines lifted from Britney's aforementioned hit as well as N'SYNC's "Bye Bye Bye" (from 2000 — pick a year and stick to it, Anne-Marie!); the single art for "1999" features Charli and Troye decked out as Neo and Trinity from The Matrix, bullet-time not included, while the video visually calls out 1990s artifacts from Titanic to G-Shock watches and Surge soda.
With a gargantuan list of songwriters ranging from Ed Sheeran, Benny Blanco, and Julia Michaels to Nelly, Max Martin, and Ice-T, "2002" leans especially hard on its references, with a quickly delivered chorus over an airy guitar-led structure that namechecks the aforementioned songs, along with Britney's "Oops, I Did It Again!" and Nelly's "Ride Wit Me" as well as a flashy sample of Nate Dogg's iconic "Hold up" hook from Dr. Dre's "The Next Episode." The message isn't especially deep otherwise — memories of lost love and good times with friends, the notion that just one kiss can kick you back to the early aughts — and in a somewhat sublimely ironic twist, the staid original sounds much better when given a bouncy trop-house spin on the remix from Irish DJ Jay Pryor.
It's unsurprising that "2002" sounds better when cast as an EDM-adjacent banger; one of the few identifiable lyrical qualities of the marketing term-as-genre designator has always been connecting wistfulness for the past with a sense of impulsiveness toward the present, future be damned. The current era of Charli's music is typically all about the future, sonically and lyrically —her deliriously glitchy "Femmebot," from 2017's instant-classic Pop 2, casts artificial intelligence and sexual politics as both intertwined and diametrically opposite to each other—so a first listen of "1999" can be a little jarring, as she waxes about "Drivin' around/ Listenin' to Shady" over the type of springy electro motif she seemingly commissions in her sleep.
But Charli's also established herself as one of pop's most potent chroniclers of millennial ennui, and so there's something more complex than first kisses and dancing on car hoods being expressed on "1999." "Never under pressure, oh/ Those days it was so much better," she intones robotically, after shouting out All That and CDs. "Feelin' cool in my youth, relaxin'/ No money, no problems/ It was easy back then." There's a deeper sense of yearning in those lines, something that scratches the surface beyond "Lol Gushers." For most of millennials' natural lives, the world has been increasingly and catastrophically fucked, and all signs point to the terror train we're all currently riding not stopping any time soon. Can you blame Charli — or anyone, really — for wanting to essentially retreat to a carefree, almost womblike state?
If you followed music online at the turn of this decade — especially if you worked in music writing — you likely witnessed the previously mentioned derision toward chillwave, which shared many of "1999"'s core ideals. Practitioners (and consumers) of the genre were criticized for a supposed ideological infantilism, chalking up chillwave's nostalgic impulses to stoned laziness. The decade progressed, things got increasingly more horrible, and suddenly everything — "1999" included — was practically chillwave. People young enough to know that voting for Brexit or Trump is a bad idea desperately need an escape from technology's stranglehold and the gross, despicable, and unavoidable public horrors of the daily news cycle. If the sort of nostalgia that Charli XCX and (less effectively) Anne-Marie are peddling isn't the best way to dissociate for a few minutes, then where are the better options?