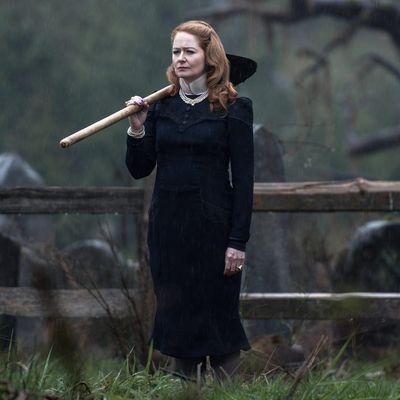 The most immediate pleasure of Chilling Adventures of Sabrina, which dropped Friday on Netflix, is its sartorial ingenuity. The series centers on the plucky Sabrina Spellman (Mad Men alum Kiernan Shipka) as she tries to find her place in this fantastical world — either committing to her witch heritage in the Church of Night, or remaining in the mortal realm among her friends — but while Chilling Adventures is anchored by Sabrina, its greatest strength is how it brims with beautifully wrought characters and their desires. Each character has a distinctive style that reflects the show's blend of references, kitschy posturing, and vaguely 1960s vibe, with costuming that proves to be as important to the series as its interest in witchcraft or the pop-culture-fluent teenagers that make up its story. Below, I rank the ten best outfits in the freshman season of Chilling Adventures to celebrate that unique costuming and what it says about the show itself.
10. Miss Wardwell's Green Dress
I'm not exactly sure if this is a dress or one of the greatest robes I've ever seen. But no matter what, I am obsessed with it. This outfit appears in episode five, "Dreams in a Witch House," a stand-alone story that sees the Spellman family trapped and tormented by a sleep demon named Batibat. When Miss Wardwell, a.k.a. Madame Satan (Michelle Gomez), travels into their dreams to save Sabrina, her outfit — with forest-green silk, a plunging neckline, and high slits — adds to the luxe sensuality that makes her such a beguiling character and Chilling Adventures one of the loveliest costumed shows on television this year.
9. Zelda's Little Black Dress
If you were planning to kill your sister and bury her in the yard for going against your sternly expressed wishes, what would you wear? Zelda Spellman (an excellent Miranda Otto) marks such an occasion in episode two, "The Dark Baptism," with the perfect little black dress accentuated by a layered, delicate collar sprouting from the high-neckline dress, festooned with pearls. (The hammer she uses to slit her sister Hilda's throat was likely not included when she got the outfit.)
8. Lord Blackwood's Suit
Father Faustus Blackwood (Richard Coyle) gets one of the show's best introductions at the end of the premiere episode, "October Country," making quite an impression thanks to his lascivious, pointed glare and a flare for the dramatic that's bolstered by his outfit. Blackwood has more decadent ensembles — like the gold cape he wears during the Feast of Feasts celebration in episode five — but I am most drawn to the suit he wears in this first appearance. There's something vaguely Edwardian about his suit, complimented by a frothy, off-white necktie of sorts that provides a nice contrast to the stiff perfection of the rest of the outfit. It makes him feel out of time in ways other characters don't. The camera hones in on certain details — his long, lovingly manicured nails, the ruby pinky ring on his left hand, the cane he clenches with a flourish — and in doing so, Chilling Adventures announces Blackwood as a character that is dangerous and decadent in equal measure.
7. Prudence's School Look
Prudence (played with intense grace by Tati Gabrielle) tends to have a specific style at the Academy of the Unseen Arts: black dress, white collar, and lots of attitude. In episode eight, "The Burial," Chilling Adventures puts a lovely spin on her usual ensemble. Here, her black button-up dress is more delicately tailored with a lacelike pattern across the collarbones and alongside the buttoning, accentuated by a stiff, crisp white Edwardian collar.
6. Sabrina's Sweaters (Yes, All of Them)
Chilling Adventures is the kind of series that's best suited to a perpetual fall and early winter. (Ahem, Riverdale.) Characters are often snuggled in coats and fur, so it's no surprise that one of the best recurring costuming themes is that every day is sweater weather in Greendale. A lot of these characters have a lot of really great sweaters — with Sabrina mastering the look most of all — but I especially want to highlight the caramel sweater with its intricate crocheting on the bust that she wears in "Witch Academy."
5. Ambrose's Marigold Robe
Sabrina's cousin Ambrose, a warlock who's been sentenced to house arrest for 75 years (and played with scintillating warmth by Chance Perdomo), has an undeniable affinity for robes. He often lounges around his home-slash-prison wearing robes of various hues and styles. A particular favorite of mine is the robe he wears at the beginning of "The Burial" — a gorgeous burnished gold with black trim that's just as enchanting as the character that wears it.
4. Zelda's Fox Stole Ensemble
There is a certain rigidity to Zelda, so it's fitting that her devout faith to the Church of Night and the Dark Lord she worships influences her costuming. Where her sister Hilda (a delightful Lucy Davis) relies on more colorful and flowing outfits, Zelda is often plunged in dark color schemes and sharply tailored dresses. One of the best appears at the end of episode four, "Witch Academy," when Sabrina's aunts go to the Academy of Unseen Arts to protect her from the Harrowing, basically a nasty hazing ritual for new students. Zelda wears a dark skirt suit, stockings, gloves, Veronica Lake waves, and an expression that would make Medusa flinch. But the reason this ensemble makes this list is for the fox stole draping her shoulders, adding to the elegant bravado of the character.
3. Miss Wardwell's Leather Trench
Miss Wardwell is, as I noted in my Chilling Adventures review, that bitch. Gomez breathes fiery life into this avowed villain with a fierceness and intelligence, and she's aided by the exemplary costuming that makes her stand out among the other denizens of Greendale. My favorite is a shiny pleather trench and high heels ensemble in "Witch Academy" that looks like it was cribbed from the closet of Michelle Pfeiffer's Catwoman.
2. Prudence's Feast of Feasts Gown
Prudence is the HBIC of the Academy of the Unseen Arts — think part Buffy's Cordelia Chase and part Nancy from The Craft with a little bit of Josephine Baker thrown in for good measure — but to be an HBIC of any environment, you need to have the wardrobe to match. Prudence definitely does, as showcased in episode seven, "Feast of Feasts," when she gains the dubious but weirdly beloved honor of being devoured by the entire coven. Not exactly the royal treatment you'd expect. Prudence, blessedly, survives and looks fabulous while doing so in a stunning gold gown with a plunging neckline that Gabrielle herself described as a "witchy princess" look.
1. Sabrina's Dark Baptism Dress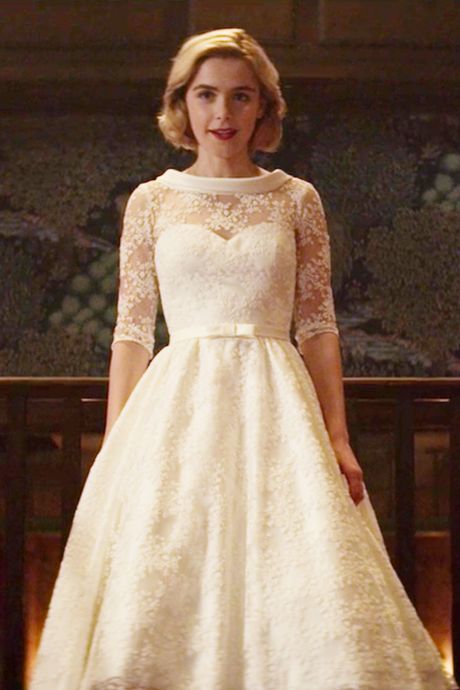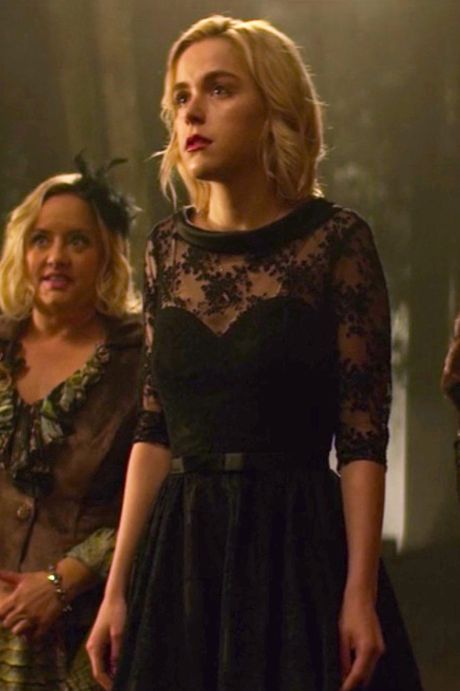 Chilling Adventures tells many of its most fascinating stories through costuming. That's never more true than in the second episode, "The Dark Baptism," when Sabrina wears her mother's wedding dress to a birthday-slash-Halloween party thrown by her ever-effervescent bestie Roz (Jaz Sinclair), and then also wears it to the "dark baptism" ritual where she's expected to pledge herself to Satan. It's initially a fetching, cream-colored dress that rests just below her knees with a sweetheart neckline, a lace overlay, and a stiff, wider Bertha-esque collar that gives way to a pleated open back. But in one of the show's earliest and most charming demonstrations of magic, Sabrina walks through blue fire as she approaches her baptism site and a dark smoke travels across her dress, changing it from cream to pitch-black. This transformation accomplishes two things: It gives us a stunning fashion moment to drool over, and it demonstrates how thoroughly joining the Church of Night would change Sabrina's life.