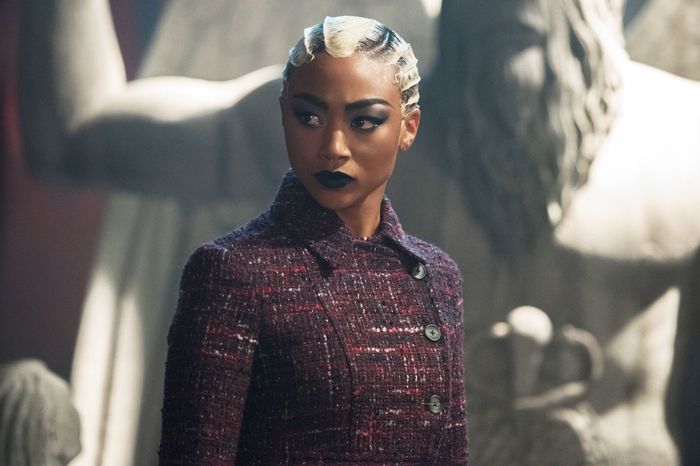 Photo: Diyah Pera/Netflix
Nothing good can come from magical meddling in the mortal world, as Sabrina is experiencing firsthand with the Weird Sisters using their powers to cause a mine collapse on the Kinkle boys. (Blood for blood, as far as they're concerned, since Harvey and Tommy are the descendants of witch hunters.) Will Sabrina learn the obvious, valuable lesson here: that playing god — or, as the case may be, playing the Dark Lord — is for sociopaths and dum-dums? Or will she try to solve this problem by implementing the one thing, magic, that will almost certainly make it worse?
I will say I appreciate that this show centers a teen girl who is way too cocky for her own good. Usually girl heroes are reluctant to accept their destiny, sure that there must have been some kind of mistake — they see themselves as ordinary, even when all available evidence proves they're anything but. Sabrina has the opposite problem. We have seen her in maybe four magic classes, not even? She enrolled at the Academy a week after Halloween. It is now Thanksgiving. Chick solves one magical Rubik's Cube and she thinks she has what it takes to raise the dead. This is like making one decent paper airplane and deciding you could man a trip to Mars. But Sabrina isn't going to let anything — not her inexperience, not her nonexistent training, not the good old-fashioned common sense I'm starting to think she doesn't have — get in the way of her plan!
Harvey escapes from the mine collapse dazed but mostly unharmed. Strong protection spell work, Sabrina! Tommy is still trapped under all the rocks, and hope of his survival is crushed when Suzie worms into the mine (more on her later) and returns holding his bloody, bashed-in helmet. Sabrina and Harvey spend the night snuggled in the bed of his pickup truck, which is very cute but also I feel like Harvey should probably shower?
At the Spellman residence, Ambrose astral-projected into the mine and confirmed there are no survivors. Aunt Z — whose hair and lipstick, even under duress, look impeccable — instructs Sabrina to not tell Harvey what she knows. She's actually empathetic about it, almost in an out-of-character way. It is killing Sabrina to not give Harvey closure. So she starts poking around about death, asking Hilda what happens when you die (remember, she's done it a bunch of times!) and how she comes back: The soil in the Spellman yard is from Cain's garden, soaked with the blood of Abel. But Hilda is in agreement with Zelda on this one: Don't bring back the dead. Definitely don't bring back dead mortals.
Harvey's dad, continuing to be an asshole, waits 12 hours before just deciding to call off the search, plan his older son's funeral, and collect the insurance money. When Harvey is too emotional to deliver his eulogy, Sabrina casts another spell on him. Said it before and I'll say it again: Eventually, if Harvey ever finds out about all this magic she's done on his behalf, he is going to be furious — and rightly so!
Harvey's dad uses his eulogy to subtweet Harvey, who doesn't take it well, and they get in a very ugly argument. Nothing like a fistfight at a funeral. It's a small moment, but I was struck by Aunt Zelda using her magic to keep Harvey's dad's punch frozen in the air. She might think it's only Sabrina who has ties to the mortal realm, but just by raising Sabrina, she and Hilda have gotten all tangled up in human affairs, too. More than either one of them is comfortable with, surely.
Having her (objectively terrible, can't believe she hasn't dropped it yet) idea of resurrecting Tommy Kinkle rejected by both her aunts and by Ambrose, Sabrina tries Witch Wardwell. She asks for a favor, and asks that Witch Wardwell keep it a secret from the aunties. The speed and certainty with which Wardwell is like "Duh of COURSE I won't tell" is the reddest of all red flags! What adult would say that to a child? Wardwell informs Sabrina that "necromancy is the darkest and most dangerous of the sacred magics" that should not be trifled with, but also gives her a step-by-step guide of how to do it and says it's simple and easy. Just one catch, as you might have expected: The universe demands balance, so Sabrina has to do a murder. This, again, is a classic trope of resurrection stories and Sabrina's shock is shocking to me. "You're many things, Sabrina Spellman, but killer is not one of them," Wardwell says. Interesting time to not issue a denial, Sabrina! I write in my notes This is so dumb will someone please tell Sabrina how dumb it is but of course nothing will derail this mission. My hunch is that she's going to use this as an excuse to off Harvey's dad, who we'd all be better off without. But she goes in a different direction.
In other Spellman family news, Zelda gets a little carried away with her Satanic confession and hooks up with Father Blackwood, whose wife, in her 11th month of pregnancy or whatever, hasn't had sex with him in ages. Ambrose, we learn, was an artistic genius who got caught up with a bad crowd re: his plot to blow up the Vatican, and he won't name names. Blackwood offers him freedom in exchange for an act of snitchery. When Ambrose ultimately refuses to name his co-conspirators — twist! —Blackwood rewards him for this act of loyalty by hiring him at the Academy, where they will work toward Ambrose's pardon and full freedom. All of this is due, in large part, to Luke's pull with Blackwood, and I am wondering if Hilda is still slipping him love potion drops and, if so, what's going to happen to their relationship if she ever stops.
Thanks to Ros's vision, Sabrina knows that Agatha and Dorcas (who I always thought they were calling "Dorkus," to make fun of her, but no, that's just her actual name) are responsible for the mine collapse. With Prudence as a witness, Sabrina gets their confession, which is really more of a boast. But Prudence doesn't take their insubordination well, and once it's clear that Agatha was the mastermind here, Sabrina smacks her across the face!! Violence is wrong but honestly that was dope. Nick arrives at this opportune moment to remind everyone he's studying necromancy and is here for the assist. So … they're murdering Agatha! Wow, everyone is being remarkably cool about this, considering.
In the clearing in the woods, Sabrina invokes the hounds (who actually bark, v effective) and opens the door between the worlds (I assume this is like the checkpoint in Coco) and then she slits Agatha's throat! Nick looks … extremely turned on. I am skeptical about this whole operation. Sabrina, who was scandalized by group sex, is a cold-blooded killer?
It turns out Sabrina's plan all along was to bring Agatha back — which means not only did she dabble in the darkest of all the magics, but she did so while trying to cheat the entire universe, like she's the first witch who ever thought of that, and like she won't get caught! The universe is totally going to know! As per usual, I am worried about everyone.
Ambrose catches Sabrina in the act and says exactly what I've been thinking: "Why must you always insist that the universe grant you special privileges?" GREAT QUESTION. Sabrina insists everything is fine in a voice that tells me literally nothing is fine. Agatha is back but is she really okay? I'm not convinced. No word on Tommy's arrival. The only person who is having a good night is Zelda, who is engaging in some casual S&M with Father Blackwood so "together, we will suffer in exquisite ecstasy."
Also suffering? Probably Tommy, whose soul returned to his body wherever it was. Which is at the bottom of the mines, pinned under boulders, alone.
Ongoing mysteries: What is up with Suzie's visions of Dorothea?  Who's that knocking on the Kinkles' door? Is Hilda dating the guy who owns the bookstore/coffee shop?