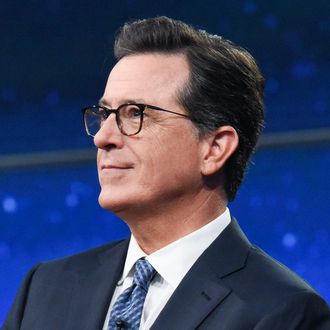 Stephen Colbert on
The Late Show.
Photo: Scott Kowalchyk/CBS via Getty Images
The midterm elections are just around the corner, and late-night shows are gearing up to cover them live. Today, CBS announced that The Late Show With Stephen Colbert will broadcast live on Election Night (Tuesday, November 6). The last time Colbert's show aired a live episode was following Donald Trump's State of the Union address back in January. It will mark the 18th time Colbert's show has broadcast live since its premiere. The lineup of guests has not yet been announced.
Similarly, over on Comedy Central, The Daily Show With Trevor Noah has its own live coverage planned. Titled Democalypse 2018: Let's Try This Again, America, the episode will air on Election Night during The Daily Show's regular time slot at 11 p.m. and mark the eighth time Noah's show has aired live; like The Late Show, they last aired a live episode after the SOTU. Leading up to the election episode, The Daily Show will tape a week of shows at the Jackie Gleason Theater in Miami from Monday, October 29 through Thursday, November 1.
Update, October 10: Late Night With Seth Meyers announced today it will also air a live episode on Tuesday, November 6. Joining Meyers will be MSNBC host Chris Hayes, and Late Night writer Amber Ruffin will appear to do a live version of her segment "Amber Says What." Jimmy Fallon's Tonight Show, meanwhile, will not air due to election news coverage.