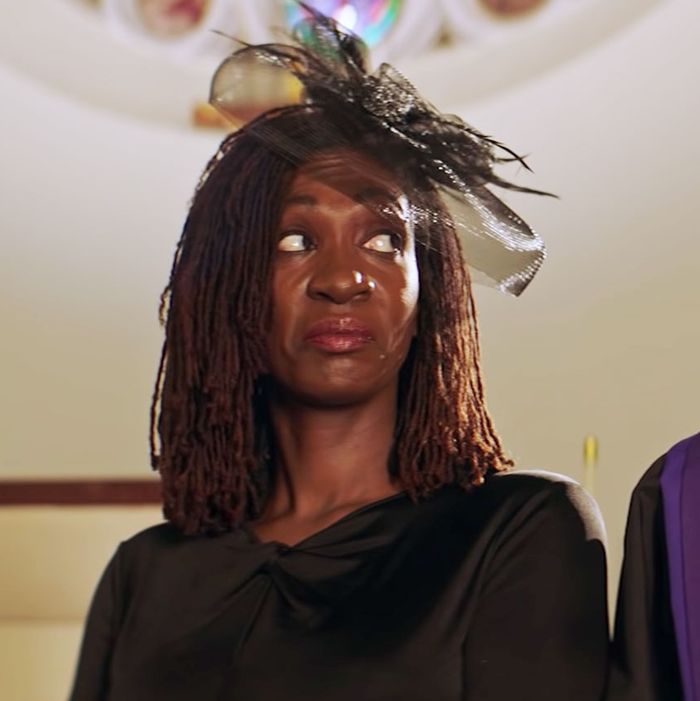 From Comedy Central's
Astronomy Club.
Photo: Comedy Central
When asked "What is Astronomy Club's most lofty goal?" the New York–based sketch group replied:
We're not sure how lofty it is, because our group is straight fire, but our main goal is to have a television show. That's step one. A sketch show would be great, but we are also developing ideas for a Reno 911! type show and an animated show. Our loftiest goal as a group, or should we say STEP TWO, would be to have multiple television shows that are awarded multiple Emmys, and then a box office smash movie. We ready.
Sounds insane for a virtually unknown sketch group to be talking like this, right? Well, not quite. Because they're far from unknown. They're just under-celebrated.
Astronomy Club includes members Shawtane Bowen, Jonathan Braylock, Ray Cordova, Caroline Martin, Jerah Milligan, Monique Moses, James III, and Keisha Zollar. Each name on the group's roster has been in plenty writers rooms and hair and makeup chairs at the likes of NBC, HBO, Comedy Central, MTV, VH1, Funny or Die, Above Average, and Netflix since forming in 2013. Despite moderate and sustaining success on screens small and silver and a successful run at the Upright Citizen Brigade Theatre in New York from 2014–2016, the ensemble has yet to break through with a project they can call their own.
Until now.
Call it a digital series, call it a backdoor pilot, but Comedy Central's digital platform has just released six episodes of Astronomy Club's unique blend of broadly relatable comedy mixed with surgical social commentary.
To wit: The series' first episode features an obstinate George Washington Carver flexing on other black visionaries whose inventions were … much more revolutionary than peanut butter. It's a simple premise, expertly executed, and engineered as much to make audiences laugh as to introduce them to lesser-known heroes like Lewis Howard Latimer who, Edison be damned, invented the mechanism by which light bulbs could burn for hours instead of seconds or minutes.
In episode #4, the group takes a successful, if broader, swing at mocking the for-profit funeral industry, but immediately follows it up with the kind of risk-taking sketch that made Key and Peele household names. It's called "Dying of Thirst," and it sees a horny slave trying to seduce the lady closest to him, chains and rat bites be damned. Now, just writing that description makes me feel terrible, but Astronomy Club pulled off the premise in a real, whole, filmed sketch, mostly because they dared to.
As they put it in their note to me:
Our actual approach isn't that much different from, say, Key and Peele or the many all-white men sketch groups that have come before us. We still use comedic structure, heightening, hilarious characters, and so forth. It's just that our experiences and knowledge are different than these other groups. Even for a "diverse" team of eight people of color, we are diverse. We all grew up in different areas (Monique's Canadian!), some with different income backgrounds, different shades, different sexual orientation, and we have three black women on our team! Think about it: Has there ever been a televised sketch show with three black women? Our diversity allows us to go places an all-white sketch group wouldn't be able to (because the internet would destroy them). If as black actors we are forced to play slave roles in movies set in the 18th century, you better believe we 'bout to do a slave sketch!
Watch all of Comedy Central Central's Astronomy Club right here.
They ready, indeed.
Luke is executive producer at Big Breakfast and a watcher of many web videos. Send him yours @LKellyClyne.