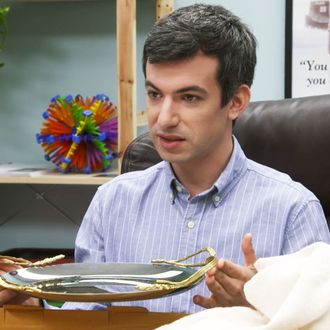 Nathan Fielder on
Nathan for You.
Photo: Comedy Central
Prepare for some truly tragic news, Nathan Fielder fans, because here it comes: Fielder's hit Comedy Central series Nathan for You will not be returning for another season. The news comes a year after season four premiered, wrapping up in December 2017 with the two-hour finale "Finding Frances," after which Fielder made the choice to end the show. Comedy Central confirmed the news to Vulture with the below statement:
For the past five years Comedy Central had the pleasure of working with the brilliant Nathan Fielder on Nathan For You. His innovative and quick-witted humor has made the show a comedic touchstone and we're proud to have been a part of it. We respect Nathan's decision to end the series and look forward to geeking out over his next project.
Fielder originally got his start in comedy uploading shorts to YouTube before appearing on the Canadian series This Hour Has 22 Minutes from 2007–2009. He went on to co-create Nathan for You with Michael Koman, and the series made its Comedy Central debut in 2013.