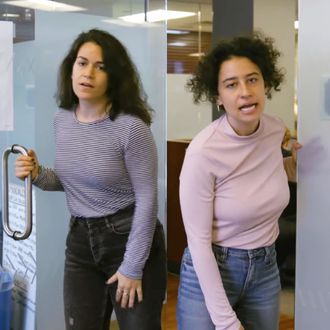 Abbi Jacobson and Ilana Glazer.
Photo: Comedy Central
Late January is looking very exciting over at Comedy Central. The network just announced that the fifth and final season of Abbi Jacobson and Ilana Glazer's series Broad City will premiere on Thursday, January 24 at 10 p.m. It'll be followed by the series premiere of former SNL head writers (responsible for such instant-classics as "Hometown Tourism Ad," "(Do It on My) Twin Bed," and "Christmas Mass Spectacular") Chris Kelly and Sarah Schneider's new show The Other Two, which counts Lorne Michaels as an executive producer. Here's the logline for The Other Two, which was ordered to series last year:
Created by, written by and executive produced by Kelly and Schneider, who recently departed Saturday Night Live after serving as co-head writers during one of the series' most memorable seasons, The Other Two stars Drew Tarver (Bajillion Dollar Propertie$) as a 29-year-old aspiring actor wondering why he can't get better auditions than "Man At Party Who Smells Fart," and Heléne Yorke (Masters of Sex, High Maintenance) as his 30-year-old sister, and former professional child dancer, Brooke, who aspires to be anything other than what she is right now. As the two siblings work towards finding themselves, they must also confront the dueling emotions of envy and pride brought on by the overnight internet fame of their younger brother, 12-year-old Chase, played by real-life muscal.ly sensation Case Walker. The Other Two will also feature Molly Shannon, who plays the siblings' Hollywood-ready mother, and Ken Marino (Party Down), as ChaseDream's newly-hired manager.
Broad City earned a double-season renewal back in 2016 and wrapped up its fourth season in December 2017. Earlier this year, Jacobson and Glazer announced that the upcoming season would also be the show's last, but that doesn't mean the end for Abbi and Ilana on Comedy Central — they also signed a development deal with the network and have multiple projects in the works. Check out a promo for the upcoming Broad City season below: