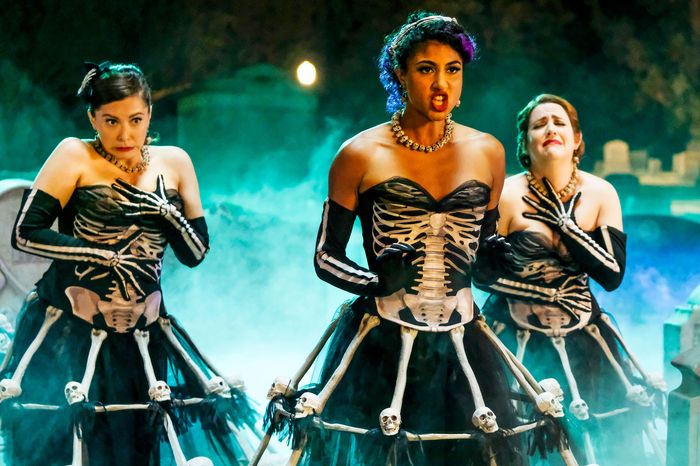 Photo: Scott Everett White via The CW
Boo! Halloween greetings from the scariest place of all: Rebecca's past. This spooky, silly outing was a fun departure that reminded me of the show's first season, when there was more time for themed episodes and letting the cast chill out together. It still ties into the season's big theme of Rebecca's journey to become a better person, but it's also a laid-back refresher after all the wild swings of the season premiere.
Things kick off with Rebecca learning the most important lesson of our time: don't read the comments. (Hi, recap haters! I have no idea how many of you there are and it's awesome.) The Daily Covina has run a sensational account of Rebecca's long list of misdeeds, and even she has to admit that "it's not fake news, it's just news." Rebecca quickly falls into a shame-spiral so deep it manifests as agoraphobia. Even an entreaty from Kathy Najimy to come watch "Friendtopia"-favorite Hocus Pocus isn't going to get her out of the house.
The resulting agoraphobia march, "Seize the Day," is like an anxiety-themed counterpart to "Sexy French Depression," except instead of blacking out with dessert wine, Rebecca's getting off to gay porn. (Hats off to Standards and Practices for allowing that telltale waistband-reach before cutting away. Y'all are the real heroes.)
I'd been wondering when the frequent mentions of Rebecca and Heather's living in a onetime drug dealer-murder house would come to fruition, and it turns out this is the episode. Rather than cope with her scary currently reality, Rebecca becomes convinced that her home is haunted by the ghost of one of the victims, a perfectly nice college student named Devon who had broken bad one time to score a little meth. CXG is truly world-class when it comes to externalizing women's self-criticism and the gory details of how we act when no one's looking, but manifesting these things in a ghost is especially clever.
Rebecca's quest to help Devon's ghost overcome her shame also comes with a bonus treat: the return of the delightfully creepy cemetery guard played by Patton Oswalt. His encouragement of Rebecca to cope with the past and move on is especially poignant given Oswalt's recent loss of his wife and his remarriage, resonances that the show gently hints at without making a big deal of it. Even better, he contributes his best Bobby Pickett impression to "The Cringe," a hilarious graveyard set piece about foot-in-mouth moments accented by some killer zombie makeup and costumes.
Nathaniel, meanwhile, is extremely out on Halloween costumes — especially the George Washington ensemble worn by Rebecca's BPD-group pal Bert Buttenweiser, whose previous silent partnership in the law firm has suddenly become quite loud. With Nathaniel and Rebecca off on their respective vision quests and Darryl on paternity leave, onetime sewer-dweller Bert (who has "a B.A., two Ph.Ds, an M.D., a J.D., and I'm down with O.P.P.") has become Nathaniel Sr.'s new darling, reliably bringing back all of Nathaniel's daddy issues. It's a throwaway storyline that's mainly an excuse to get Esther Povitsky and Michael McMillian into some really silly costumes, but I'm not complaining about that — all of the business with Tim's peach outfit was pretty funny.
Finally, we get a glimpse into Darryl's struggles with single parenting, as he frets about giving little Heabecca, who now has the slightly more palatable nickname "Hebby," the same opportunities that his older daughter had with two parents. That manifests as an obsession with the one thing Darryl definitely can't provide — breast milk. As reluctant babysitter and massive Halloween hater WhiJo gets his heart thawed by Hebby in a koala costume, Darryl desperately tries to stock his freezer on the "white market," missing all the fun.
Parenting and kid stuff really aren't in this show's DNA, and as with season two's "Rebecca babysits Paula's son" storyline, you can really feel it pulling its punches on making fun of judgy moms or crazy modern parenting standards at Darryl's "Wee Covina" group, lest anyone get offended. But it does get to the core of something real about how single parents feel the need to meet a higher standard, and make up for the "missing" parent.
The episode wraps with Rebecca also finding something that's missing: her ability to forgive herself. The "haunting" she experienced might just have been steam gassing off from an errant tampon-stuffed pipe, but she's now finally able to move on. Or is she? Probably yes. But are we sure?
Other Notes:
• "Meet Rebecca" and the chirpy new season-four theme song of the same name! I'll confess that as a big fan of the previous three themes, I'm not wild about it. Its deeper message seems to be that women's complex personalities can't be reduced to a tidy sitcom-style summary, but that is also true of the season-one theme. Maybe it'll make more sense as the season goes on, but for now, it's my least favorite of the four.
• Like Rebecca and Kathy Najimy, I was surprised to learn that you really should not flush tampons! I love this show's endearingly nerdy commitment to education large and small. I also somehow missed the assault allegations against David Copperfield mentioned at the #gurlgroup4eva's séance.
• For that reason, it should probably not surprise me that the West Covina town motto ("Live, Work, Play") that "The Cringe" clowns on is very much real. ("In fairness, I was also high" was the biggest laugh of the episode for me.)
• It might have just been a costume, but Josh really would make an incredible weatherman (well, aside from the whole meteorology part of the job). Please let this be the answer to his career crisis.