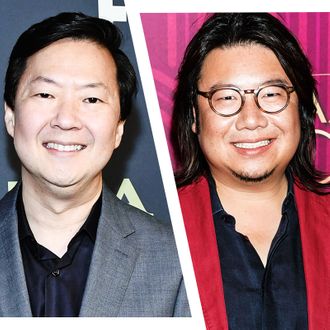 Ken Jeong and Kevin Kwan.
Photo: Amy Sussman/Getty Images and Gilbert Carrasquillo/Getty Images
Kevin Kwan, who wrote the book that inspired last year's hit film Crazy Rich Asians, has a new project in the works at CBS featuring one of the film's stars. According to Variety, comedian and Masked Singer judge Ken Jeong will star in a multi-cam pilot at the network titled The Emperor of Malibu, which is written and executive-produced by Kwan. The show centers on two families — "one from Shanghai with new money and one from the East coast of the U.S. with old money — that must learn to co-exist when their children get married." In addition to Kwan, David Sangalli, Michelle Nader, Christina Lee, and Danielle Stokdyk will executive-produce.
The Emperor of Malibu isn't the only series the Crazy Rich Asians author is currently working on. Kwan and Sangalli also have a TV project in development over at Amazon: "a globe-hopping drama set amongst Hong Kong's most influential and powerful family and the business empire they control." Jeong, meanwhile, just hit Netflix with his debut stand-up special for the streaming network titled You Complete Me, Ho.