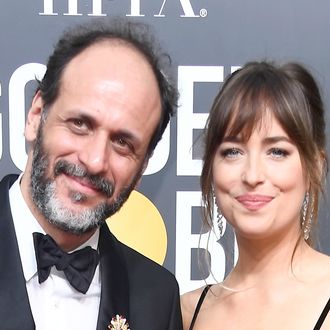 Luca Guadagnino and Dakota Johnson.
Photo: Frazer Harrison/Getty Images
After partnering with Dakota Johnson for 2016's A Bigger Splash and the upcoming (excellent) Suspiria remake, it's only natural director Luca Guadagnino would want her in his Call Me by Your Name sequel, which will hopefully be in the offing sooner rather than later. In his recent New Yorker profile, the director informs actor Armie Hammer that Johnson would hopefully play his Call Me by Your Name character's wife, with whom he would have had "maybe five children" in the intervening years between the original and the sequel.
As you'll recall, (or, if not, spoiler alert!), the 2017 film ends with Hammer's Oliver informing Timothée Chalamet's Elio of his recent engagement. You'll also remember sobbing. Says Guadagnino of Johnson's hypothetical sequel role, "She has to be a New England kind of hoochie woman." And if you can immediately picture that character, congratulations, you should write the Call Me by Your Name sequel!
So with that bit of (at this point, fantasy) casting in place, Guadagnino says there is just one more hurdle to a successful follow-up to his Best Picture–nominated romantic drama. "The only problem is the title," the director muses. "It cannot be Call Me by Your Name Two." Of course not! This isn't Look Who's Talking Now we're talking about. Now, your first suggestion is probably going to be And I'll Call You Mine, but are we playing by Fast and Furious sequel naming rules here? In that case, and we're just spitballing, how do we feel about Call Me by Your Name: New England Hoochie Woman Drift?