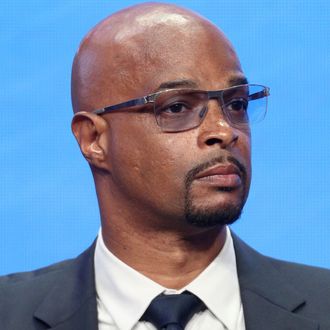 Damon Wayans.
Photo: Frederick M. Brown/Getty Images
Maybe it's time for Fox to just let this one go. In a new interview with Electronic Urban Report, Damon Wayans said he's quitting the show Lethal Weapon. There was no new incident or conflict with his co-star Seann William Scott, who was brought in after Clayne Crawford was fired for abusive behavior on set. Wayans is just tired and over it. "I'm a 58-year-old diabetic and I'm working 16-hour days," said the actor. "I am going to be quitting the show in December, after we finish the initial 13. So, I really don't know what they're planning but that's what I'm planning." Right now, Weapon only has a 13-episode order for its third season, and it's unknown whether or not it will be picked up for a second-half run of episodes. This seems like it might affect that decision by Fox!
Wayans said he's considering returning to theater work, and just generally wants to be more available for his family. "It's hard for me to play this loving, supportive father, husband, friend on TV, and be the guy in life that is telling everyone, 'I can't, I have to work,'" adding, "I have seven grandkids. I've been missing recitals and graduations. To me it's just not worth it. There is a better way to live life." Crawford's character, Martin Riggs, was killed off of the show to make way for his replacement, so if executives at Fox just really, really love this series and want to stick with it, fans might be in for another funeral soon — and a Lethal Weapon with no Riggs and no Murtaugh.