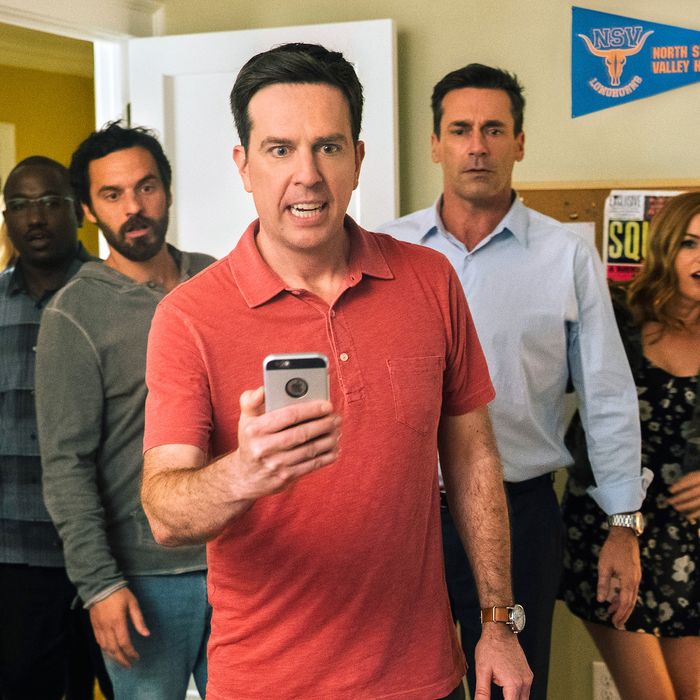 Hannibal Buress, Jake Johnson, Ed Helms, Jon Hamm, and Isla Fisher in
Tag
.
Photo: Kyle Kaplan/Warner Bros.
Yeah, jack-o'-lanterns are cool, but you know what's even cooler? A bunch of jack-o'-lanterns featuring the faces of the principal cast of the 2018 film Tag. At least that's the argument writer and comedian Dave Ebert has made with the GoFundMe campaign he launched yesterday called TAG 'o' Lanterns, in which he originally hoped to raise $500 to carve pumpkins for each of the five main Tag cast members:
If I raise $500 I will carve the entire principal cast of TAG into pumpkins. This includes Jon Hamm, Ed Helms, Hannibal Buress, The Guy From New Girl, and Isla Fisher. This does not include Rashida Jones. You should not give money to this. It is going to be a big hassle to get 5 large pumpkins and even more annoying to select images, stipple them onto the pumpkins, and then carve them out. I have other things I should be doing with this time, and undoubtedly the people I've made prior commitments to will be mad at me for doing this. My wife also believes it is in poor taste to monetize a craft project in such a crass, transactional way. But a deal is a deal, so if you ignore all of this and still donate and this reaches $500, those pumpkins are getting carved. Final warning, the money will not go to charity, I plan to use it exclusively on visits to Red Lobster.
Since launching the GoFundMe yesterday, Ebert met his $500 goal, which included a $250 donation from Tag director Jeff Tomsic and a $199 donation from cast member Ed Helms. "I donated because I believe in advanced pumpkin craft, and I am a proud cast member of the movie Tag. And I also couldn't sit by and let Jeremy be the only one with a jack o'lantern," he commented on the GoFundMe page, referring to the Jeremy Renner pumpkin Ebert has carved so far. Helms then made a request on Instagram: "I got so excited I didn't even read the whole post. No Rashida? And what about Annabelle Wallis?? That's bullshit. Come on David, step it up." Ebert decided to accommodate Helms's request and raise the GoFundMe goal by $200 for Jones's and Wallis's pumpkins, which cast member Jon Hamm was quick to cover. "The Tag director, Jeff, messaged me and was like 'Hamm is really excited about this,'" Ebert tells Vulture. (We have reached out to Hamm's rep to confirm his donation and will update this post when we hear back.)
Now that the campaign has raised over $800 — including a donation from one of the men the movie is based on — Ebert says that he's considering raising the goal again another $1,000 in order to carve a pumpkin of Thomas Middleditch's character, per director Tomsic's request, but there's a condition to that goal: Middleditch must donate the $1,000 himself.
"By the way, this entire time I'm saying 'Please don't do this,' and I kind of mean it — like I don't have the time or energy to do this right now," Ebert says. "It is definitely — and I'm not saying this tongue-in-cheek — it is a burden at the moment, but worth the story, so I'll commit to it. I'll commit to any prank or dumb thing and see it through, but I'm not enjoying carving this many pumpkins."
We salute you, Mr. Ebert, for your dedication to this burden.