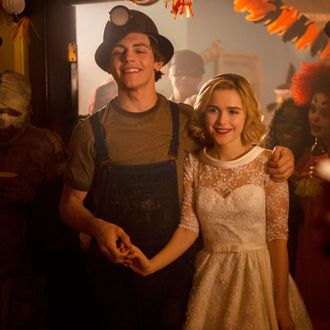 Photo: Diyah Pera/Netflix/Diyah Pera/Netflix
Despite Riverdale's horny teens existing on the CW and Chilling Adventures of Sabrina's witchy hijinks going over to Netflix, the two teen dramas share a fundamental DNA thanks to executive producer Roberto Aguirre-Sacasa. And despite mixed messages if the two shows would ever have some type of a crossover — they are from the same Archie Comics universe, after all — episode seven of Sabrina confirmed such a thing would indeed occur, when none other than the spooky, anemic character of Ben Button showed up to deliver a Thanksgiving pizza to Miss Wardwell. Ben, remember him? [Lights a candle.] Poor guy. He just killed himself on Riverdale by falling to his death at a hospital, and before that, popped up everywhere from the Twilight Drive-In to the Bijou.
As to how this freshly deceased character is popping up in the next town over with cheesy carbohydrates, well, Aguirre-Sacasa wants you to take on an Austin Powers time-travel mindset and just enjoy yourself. "It suggests a very deep, deep mythology where time and space bends. I love that kid. I'm sad that he keeps turning up and horrible things keep happening to him," he told Entertainment Tonight, not confirming or denying if Ben could've survived his hospital death. "It seemed like it was pretty final, but yet there he is in Greendale. But in Greendale, everyone pops up — the dead don't stay dead long in Greendale." Especially if they're Human Beings.