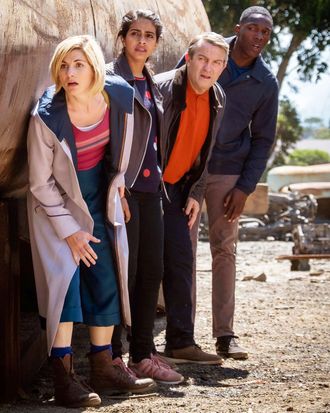 Photo: Coco Van Oppens/BBC Studios
It was important that Doctor Who not only get this episode right, but that it dazzle us with a sort of brilliance unique to Chris Chibnall's vision for the series. It was important for Doctor Who to get this episode right because the show hasn't done a story of this sort since 2010's "Vincent and the Doctor" (one of the series' very best), which did justice to a historical figure so skillfully that perhaps it's no surprise it's taken eight years to do something similarly affecting. It was important for Doctor Who to get this episode right to pay proper homage to a civil-rights hero, to treat the topic seriously, and to say something that could make a difference in the minds of viewers, regardless of their age.
It was important for Doctor Who to get this episode right because of the world today — because over 60 years after the events of this episode take place, this material manages to feel uncomfortably relevant.
Thankfully, they got it right — so very right, from a situation drenched in so much wrong. "Rosa" is a reminder that our science fiction can and should be about the things that matter, and that few other shows have the ability to do what Doctor Who has the power to accomplish.
"Rosa" wastes no time delivering a one-two punch. The terrifying opening scene, set a dozen years prior to the rest of the story, shows Rosa Parks (Vinette Robinson, displaying equal amounts of trepidation and strength) daring to stand up to James Blake (Trevor White), the very same bus driver she'll come face-to-face with in the future at the defining historical moment of her life. After the time travelers arrive in Montgomery, Alabama, in 1955, a casual act of courtesy on the part of Ryan goes horribly awry when he's slapped and openly threatened with lynching in broad daylight, in the middle of the street, like it's a perfectly normal thing.
Explorations of racism in Doctor Who are nothing new. They go all the way back to 1963, with the introduction of the Daleks, a race infamously hell-bent on ethnic cleansing and racial purity. But how refreshing it is to remove the allegorical middleman and go straight to the issue, showcasing the real monsters of the world, which are far more unsettling than the most evil Dalek this series can conjure up.
There couldn't possibly be a TARDIS team better suited to experience the conflict and feel the pain of this scenario. You'd almost think the series regulars had been cast around this particular episode, if only for that brilliant scene between Yas and Ryan behind the dumpster: two young people of color finding themselves in a fantastical situation and realizing that even though much has changed in 60 years, it's still not enough. (I do hate to ship, but, damn, they seem destined to fall for one another.) Over the last two weeks I complained that Yas wasn't given enough to do, but that all changed here, as she came into much sharper focus. Indeed, the entire team appears to be operating at full speed at this point. "Rosa" hopefully points the way to the future of the series.
As affecting as the ugliness of the episode is, a big part of its beauty lies in its ability to mine gentle humor from the situation: Graham's pitch for a Smartphone along with claiming to be Steve Jobs; the Doctor and Graham pretending to be a couple; the Doctor still not used to being called ma'am; Ryan's assertion that Rosa Parks is the first black woman to drive a bus; Ryan's sudden realization that he's in the same room as Martin Luther King and Rosa Parks (if only he'd known who Fred Gray was). Likewise, the episode offers up plenty of kindness, most of it from the primary guest star, who easily steals the episode from every other actor on the screen. If Vinette Robinson looks familiar to you, that's because you've seen her in Sherlock as Sgt. Sally Donovan and also in Chris Chibnall's very first script for Doctor Who, 2007's "42."
Everything in "Rosa" builds toward that famous showdown on the bus, and the team's sudden realization that they must be part of history in order for it to play out properly is heartbreaking, exhilarating, and altogether surreal. The way it's all put together, the viewer feels like they too are on that bus (mad props to director Mark Tonderai). The moment between Parks and Blake unfolds in a deeply intense manner, and though some will surely bemoan the use of a pop song — Andra Day's "Rise Up" — to punctuate the proceedings, it worked for me. (Remember Athlete's "Chances" in the van Gogh episode?) The final TARDIS scene provides both a lovely postscript and an important history lesson. Doctor Who suddenly felt educational, which is surely one of the most imperative missions this show could have. More of this, please.
This is the first episode of the season not solely written by Chibnall. Malorie Blackman is, I believe, the first woman of color to write for Doctor Who. Best known for a series of young-adult sci-fi books called Noughts & Crosses which also explore racism, it seems she was the ideal person to craft this story. The script is littered with all sorts of references to previous ideas like vortex manipulators, perception filters, and artron energy — she's either a big fan or she did her homework. Either way, this didn't feel like the script of a freshman Who writer, but one from a seasoned vet.
Having never been to Montgomery and not being a historian, I can't accurately comment on whether or not this episode nails the setting, but it certainly provides a convincingly chilling atmosphere through which to explore these issues. Like last week, it seems this was lensed in South Africa (haven't been there, either), but I never would've guessed this was shot anywhere other than a small town in the Deep South. Big round applause to the production team for transporting viewers to a much different kind of alien world.
If I wanted to pick a nit, it'd be with Krasko (Joshua Bowman), whose motivations are too hazily defined. Though he was a released prisoner (from River Song's old residence, Stormcage) and he's been somewhat rehabilitated using what amounted to the Ludovico technique from A Clockwork Orange, we're never provided any solid reasoning for his desire to alter this particular piece of history. Why does this man from the distant future hate black people so much? Is the episode saying that something as awful as racism will never go away? What a terrible, sobering thought. Way back in the second episode of the new series, the Lady Cassandra in the year 5 billion was openly scornful of what she considered "mongrel races," so perhaps that is the show's position.
Beyond that train of thought, the scenes with Krasko are simply never as interesting as everything else in the episode, even though his duets with the Doctor do provide Jodie Whittaker the opportunity to show off her Time Lord smarts, which is reason enough for them to exist I suppose. He's dispatched so quickly and without fanfare I can't help but wonder if this isn't the last we'll see of him, at which point we'll maybe come to understand him better.
Back in the William Hartnell era, the show frequently did historical stories that, beyond the TARDIS, had no science-fiction elements whatsoever. The ship would land and the travelers would find themselves embroiled in whatever slice of history they ended up in (the French Revolution, the Crusades, trekking the Silk Road with Marco Polo, etc.). The writers found plenty of fertile ground in forcing modern people to cope with history. Given Chibnall's seeming fondness for the earliest years of the show, that's how I was hoping this episode would go. How this story might've been crafted without a sci-fi villain to work against I'm not sure, but it would have been refreshing to see them take a stab at it.