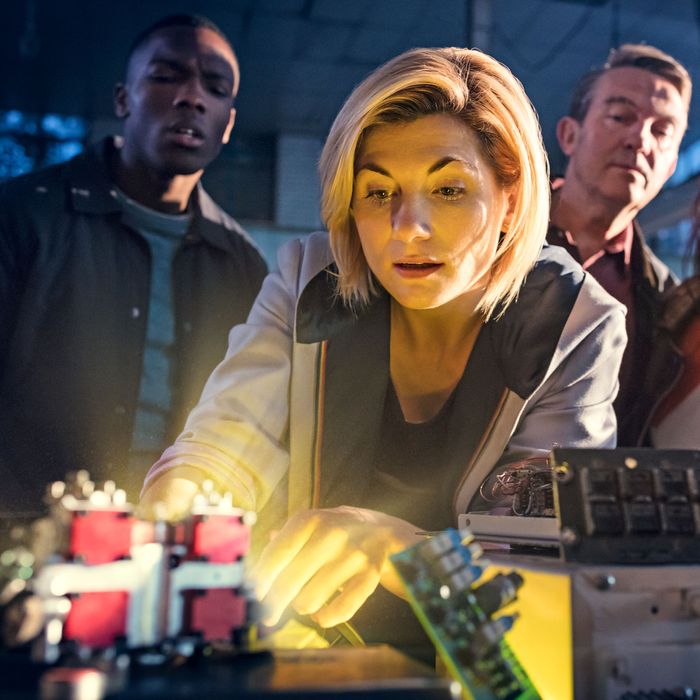 [
New music soundtracks this scene
.]
Photo: Sophie Mutevelian/BBC
Do we doo, do we do we, we doooooo, doo we dooo! Jodie Whittaker and her glass-ceiling-shattering entrance aren't the only things delighting Whovians' eardrums with the newest season of Doctor Who, thanks to a revamp of the show's theme song to usher in the reign of the 13th Doctor.
British-Nigerian composer Segun Akinola was tapped for the honor of reinventing the tune fans know and love, but instead of going overboard with a textbook "change everything" style, Akinola tells Vulture he looked back at Who's original theme five decades prior, believing the spirit of the original was all that was needed to weave the best sonic tapestry. Earlier this week, Vulture spoke with Akinola about his creative process, the other Who themes he worked on that didn't make the cut, and the joy of the theremin.
How did you land such a great gig? I can't think of another series that presents an opportunity like this.
I know, right? It was quite a cool story — I got a random call one morning saying, "We put you forward for Doctor Who, and the executives are interested in speaking with you, do you mind if we pass on your phone number so they can call you?" I obviously said yes, put the phone down, did a dance, and for awhile didn't quite understand what had happened. From that point, it was a series of having conversations with [showrunner] Chris Chibnall and [executive producer] Matt Stevens.
Did they already have a sonic structure in mind?
Once I had the job, that's when we talked about what we wanted to do. We turned out having similar thoughts about wanting the heart of it to be the original theme. They were really amazing in giving me space and freedom to be creative. What they really stressed numerous times was they wanted me to bring my creativity and my thoughts, rather than it being a case of telling me exactly what I needed to do. I had lots of time to think about ideas and play around with ideas.
What elements from previous themes did you want to keep in yours, and how did you want to enhance it for this new era?
I wanted to go back to the original theme. I really wanted that to be the heart and the core of whatever I was going to do. I was able to get hold of the original recordings from the show's archivist, and then I was able to examine them and bring my interpretations and viewpoints to it. In the final theme, what you have are a number of elements from the original. Some as they were, but most of them are played with some additional elements.
Why did you want to reinterpret the original theme, as opposed to other eras of Doctor Who's music?
It was such an amazing theme. Since I had somewhat of a blank slate now, the new theme offered the opportunity to go back and think, If we're trying to come look at this fresh, having been through a number of years of different variations, why not go back to the theme that started it all? It was a suggestion from Chris and Matt, rather than a provocation of "it needs to be this." It's remnant of the past and it's also bold and fresh and new.
How did your creative process branch out from that?
The first thing I did was the other themes, actually, like the scores for the characters — and not as a means of procrastination. [Laughs.] I wanted to start establishing the sound of the series and then turn my attention to the theme, because that way I would be able to understand the direction I'd want to go in. When I got to the theme, it was a case of tinkering and experimenting. One of the things I did was I created three versions of the theme — the other two were quite a lot more experimental and different. I really wanted to ask questions about how far I could play with it and mess around with. It made the direction to go in really obvious.
How would you define the sound of the series?
Without giving anything away about what's coming this season, it's a case of having a reset. What we tried to do was have the music modern. That was one of the pillars. It was having lots of influences.
What influences did you favor?
They ranged from Adele to Emeli Sandé to Rag'n'Bone Man to classical composers like Iannis Xenakis and Georg Haas. It didn't have to be definable as one "thing" or one "sound." It's not just electronic or just classical. I pulled from every genre — all led by the story.
What other types of sounds did you experiment with? You mentioned those three different themes.
Yes, there were three versions, one of which you obviously hear in the show. It was one of the earlier versions I made, actually. The other two were much more ambient and much slower. I'd classify those two as experiments to see what the theme would sound like as weird, ambient, and experimental. There's a bit of an ambient soundscape in the background of the final theme as well to give it a sense of space. Of course, the theremin remained.
That was never going to be excluded, I imagine!
I wouldn't dare!