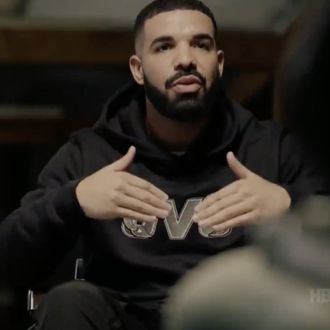 On the face of things, you'd think Drake would be most mad about Pusha T teasing the existence of his secret son on the now-infamous diss track "The Story of Adidon." While that might have stung at the time, Drake opened up during the most recent episode of LeBron James's HBO show The Shop about the real betrayal: how Kanye produced the song after Drake worked on Yeezy's most recent album in Wyoming. Drake also points out that he told Kanye about his child and his issues with his son's mother at the time, private details that ended up in "The Story of Adidon," but, to be fair, Mr. West has denied discussing Drake's son with Pusha.
While most of us had to pick our jaws up off the floor when Pusha's lines about baby Adonis turned out to be very much true, Drake was actually more rattled by a different lyric, one insulting his friend and producer Noah Shebib, who has multiple sclerosis. "OVO 40, hunched over like he 80 … tick, tick, tick / How much time he got? That man is sick, sick sick," the lyric reads.
"When you mention defenseless people who are sick, in the hospital, that passed away, that really sent me to a place," said Drake. "I just believed then and I believe now that there is just a price you'll have pay for that." Predicts the rapper, "Someone's gonna fucking punch you in the fucking face."
So why, after all that, did Drake decide not to go hard against Pusha or Kanye's "hell of a chess move" in a response track? Frankly, Drake says, it would have just given Pusha T what he wanted: a boost to his career. "I didn't want to further your reputation and your career by rapping back at you and having this exchange," he said. "And that was it for me." Drake also confirms he did write a retort, before eventually deciding not to release it.
Meanwhile, way over here on the sweeter side of things, here's Drake showing LeBron a photo of his blue-eyed baby boy.