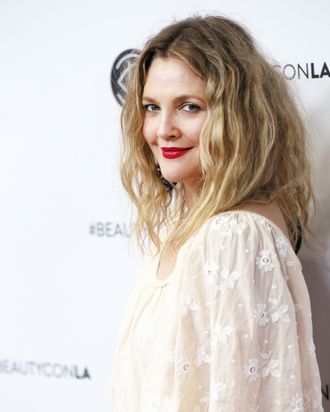 The magazine said "she has been subconsciously seeking attention and care from a male figure."
Photo: David Livingston/Getty Images
In an interview with EgyptAir's in-flight magazine, Drew Barrymore seemingly gave several bizarre remarks on motherhood, body shaming, and the status of women around the world. ("I cannot deny that women made a great achievement over the past century," Barrymore says at one point. "There is a significant progress recorded by people who study women status throughout history.") After photos of the print interview went viral on Tuesday, the journalist behind the piece — writer and former Hollywood Foreign Press Association president Aida Takla O'Reilly — defended the interview on Twitter. O'Reilly said she conducted the interview in New York City, and promises that it's totally legit.
In the interview's introduction, O'Reilly begins with a few unusual observations about Barrymore's personal history: "Ever since [her parents' divorce], she has been subconsciously seeking attention and care from a male figure; but unfortunately things do not always go as planned and she has not yet succeeded in any relationship for various reasons," it reads.
Drew Barrymore's representatives told HuffPost that she "did not participate" in the interview, and that her team is "working with the airline PR team." Could we get a dramatic reading, too?
Update, October 4: The HFPA has issued a statement in response to the strange case of the Horus article, saying that they are investigating the matter. "We are aware that an article under the byline of our member Dr. Aida Takla-O'Reilly regarding Drew Barrymore, published in EgyptAir's Horus magazine, has come into question," reads the statement, which was sent to Vanity Fair. "Ms. Barrymore has been interviewed by H.F.P.A. members many times and we always appreciate her willingness to speak to us. As an organization comprised of journalists, the H.F.P.A. expects its members to uphold the highest degree of integrity in their journalistic activities. Based on our preliminary investigation, we understand that parts of the article in question were not written by Dr. Takla-O'Reilly and that other portions of the article may have come from other sources. We regret any distress caused to Ms. Barrymore by this article."
A source also told Vanity Fair that the quotes used in the Horus piece actually came from a Santa Clarit Diet press conference, and that the introduction to the article was not actually written by Takla-O'Reilly herself. As the former HFPA president stated on Twitter, the publication is "authorized to edit the final version of the interviews, according to adjustments required by the magazines in regards to size of the article without altering the core of the content."