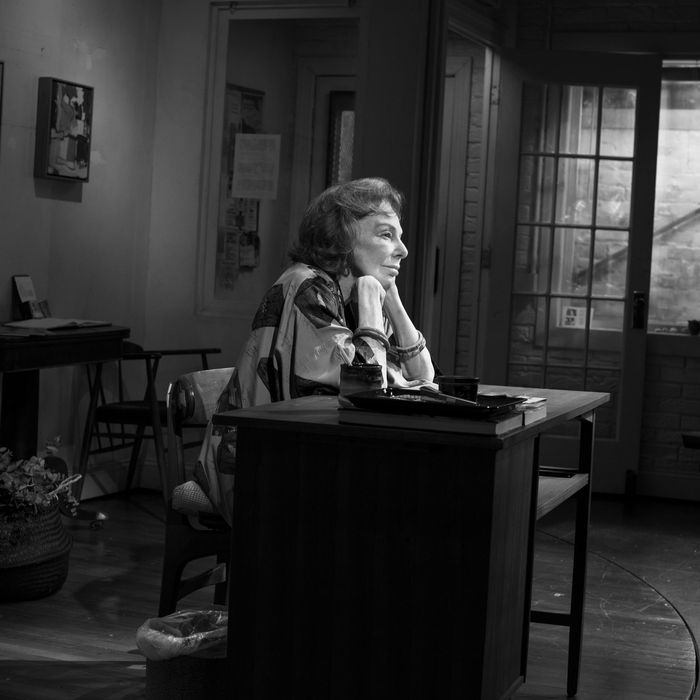 Elaine May in
The Waverly Gallery
.
Photo: Brigitte Lacombe
Decades since she last appeared on Broadway, the renowned actress, writer, and director Elaine May has returned. This fall, at the John Golden Theatre (where she opened An Evening With Mike Nichols and Elaine May in 1960), May is starring in Kenneth Lonergan's autobiographical play The Waverly Gallery. In it, she plays Gladys Green, a leftist Greenwich Village gallery owner facing the onset of Alzheimer's and gentrification, who has a close relationship with her grandson, played by Lucas Hedges. She's seen here, in the first photo from the production, gazing thoughtfully around that gallery.
"Although we encounter this character in the midst of a decline, we have to recognize that she was and is a force to be reckoned with — an active, political, intensely gregarious person who was once at the center of a tremendously vital landscape," director Lila Neugebauer says. "Elaine does all that storytelling with her pinky finger. She's also Jewish and one of the funniest human beings alive." Joan Allen and Michael Cera also star in The Waverly Gallery, which opens October 25.