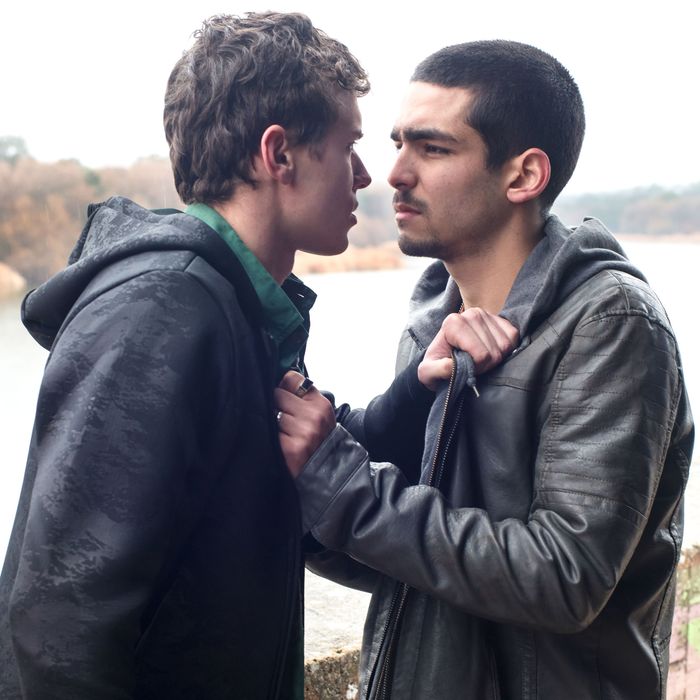 Photo: Manuel Fernandez-Valdes/Netflix
Netflix's Spanish-language drama Élite will out-do your wildest high-school TV fantasy. Élite pirouettes where other teen dramas would merely pivot. It's Big Little Lies in Gossip Girl's uniform, sure, but it also invests deeply in causing as much hot, horny romantic drama as possible. Every high-school-show stereotype plays out here to thrilling, surprising results: They scheme and have sex and forget to do their homework and scheme and have sex and forget to do their homework some more. And, lest we forget, someone is murdered. Even that murder is hot, though, because Élite is so perfectly plotted that it satisfies your appetite for hot people doing dirty things and annoying people being killed off in one fell swoop.
Because I believe that extremely dramatic, extremely hot, extremely sneaky teens deserve to be Seen, I have taken another look at the teen queens Élite has to offer. Which couple in this murderous coterie of rich kids is the hottest? Beware of light spoilers.
8. Samuel and Marina
On his first day one at the Élite school, Short King™ Samuel locks eyes with Marina and develops a crush. It's complicated by almost every other element of the show: He spars with her snobby brother Guzmán, he makes an enemy out of her shady father, and then his older brother sets his sights on Marina, too. Still, Samuel dutifully caters to her, doing his best to see the best in her and earn her trust. Even when Samuel and Marina start to figure it out — are they really dating? Or just kissing in public a few times? — he becomes a casualty of her rebellious instinct. But enough about why they don't wouldn't work as a couple. Nothing about their scenes together makes you want to watch more scenes of them kissing, fussing, or flirting. Next!
7. Lucrecia and Guzmán
Lucrecia, the only worthy successor to Blair Waldorf's legacy of mean-girl scheming and wearing headbands, really loves Guzmán — or so she says. What's more accurate is that she really likes scheming for him and with him. Their love language is sneaky deceit and general debauchery, which begins to wear more on Guzmán than it does on Lucrecia. (Or does he just have a lower tolerance? A teary confrontation later in the season suggests that it's hard on her, too.) I love to root for a pair of competent villains who want to day-drink and cause mischief, but that's all they have to offer boo'd up. This is Élite: We don't grade on a curve here, and couples need to scheme and look hot doing it.
6. Marina and making a big mess of everything
Technically, "Marina and making a big mess of everything" means "Marina and Nano," but let's be real: Marina sleeping with Samuel's older brother reveals that she is not just messy, but messy messy. Marina has hot, unprotected sex with Nano! Sweetheart, why? You are on a teen drama, beloved, you are asking for trouble! Their romance is just like any other baseless, absurd youthful crush: Marina likes to think she's rebellious and Nano is a bad boy; Nano is a sweet opportunist and Marina is rich. Sorry for the harsh truths, but there's not a lot else going on here. Their bathroom make-out during a party at Samuel and Nano's house was only kinky because Samuel was basically across the room. Otherwise, pass!
5. Carla and Polo
Carla and Polo are a couple-couple: They've been together forever, and they are planning for together forever, inasmuch as high-school lovers can. They're not the alphas of the cool kids — that's Lucrecia and Guzmán — but they're enough of an "It" couple to have everyone gossiping about the status of their relationship. No spoilers here, but Carla is too hot and cool to be tied down by Polo's insecurities. Enter … transfer student Christian. (More on him later.)
4. Nadia and Guzmán
Lucrecia and Guzmán never stood a chance when it comes to what's going on between Nadia and Guzmán. Every teenage trope — two kids from different worlds, romances that begin as a bet but bloom into something more ("Am I a bet? Am I a bet?! Am I a fucking bet?!"), a love forbidden by their families — comes to a head here, but it's so much more fun in Élite's capable hands. Instead of pairing the probing, methodical Nadia with a loose, gregarious jock, she's coupled with Guzmán, someone equally probing and methodical. His charming lines all fall flat! She only likes him when he's willing to get down on his knees and beg her dad to let him take her out! It's all the hotter because they both lash out one another since they each find it so difficult to trust! Their drama unfurls beautifully, and as much as I want them to kiss, they never do. Great drama, but not hot drama, which holds them back from the top of our ranking.
3. Nadia and Guzmán and me
To borrow a phrase from Vulture blogger Quincy Jones, we shouldn't talk about this publicly.
2. Carla and Polo and Christian
Carla loves Polo, but they're both bored. So Carla has sex with Christian and lets Polo watch. This goes on for a bit, before Polo gets jealous and tells Christian that he's just their plaything. Christian throws a tantrum until Polo and Carla win him over with gifts and keys to their gilded kingdom. And then, things get really kinky.
Polo and Carla are fine by themselves: a safe, certain couple, bored by their safety and certainty. But Polo and Carla with Christian fires on all cylinders. There's greed! Lust! Blow jobs! Cover-ups! Conspiracies! Lies! Élite plays fast and loose with this threesome — they get their hands dirty with everyone and everything. Watch at your own risk.
1. Omar and Ander
There are only two things I am certain of in our current pop-culture climate: Bradley Cooper should get a tan and grow out all the hair on his face, and Omar and Ander are the hottest high-school couple on any teen show ever.
Tim Riggins and Lyla Garrity found jobless! Serena van der Woodsen and Dan Humphrey never stood a chance! Jordan Catalano is bankrupt! Pacey and Joey outsold! Who's even on Riverdale these days? In every episode, at every opportunity, Omar and Ander are allowed to murder me. Points were made! Theses were proven! Omar and Ander's dramatic, sexy romance — they're both so cagey and inscrutable until they do drugs and make out!!! — is the greatest gift Netflix has given us this side of To All the Boys I've Loved Before.
Omar and Ander are the hottest people on this show, according to me, a person with good taste in hot people. They also have the most compelling story lines and the most forbidden love: Omar is a closeted drug dealer with a Muslim family; Ander is a closeted tennis player whose mom is principal. If every other character on this whole blessed show were to be expelled or killed off, Omar and Ander's chemistry could sustain seven full seasons.