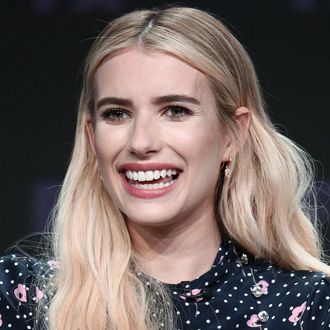 Emma Roberts.
Photo: Frederick M. Brown/Getty Images
Emma Roberts is getting a Netflix show. The American Horror Story scene stealer will star in Spinning Out, which is about the best kind of sports drama of them all: ice-skating drama. Following in the footsteps of the classic 1990s film The Cutting Edge, Spinning Out will center on a promising skater named Kat Baker who is sidelined by injury. The dream isn't dead yet, though, as Kat has an opportunity to get back on the ice in pairs skating, a discipline rich with both competitive and sexual tension. Naturally, Kat teams up with a "bad-boy" partner, and since this is described as an "edgy drama" she also "risks exposing a fiercely kept secret that could unravel her entire life." Creator Samantha Stratton can do what she wants, but please, please can she work in just one instance of Kat yelling "toe pick!" at her new ice partner?
Update October 31: Roberts has departed the series due to "scheduling conflicts," according to Variety. The show is continuing to be developed, but will search for a new lead.