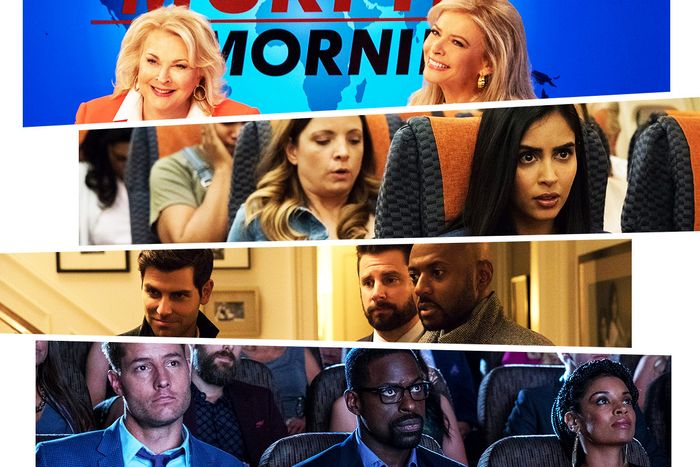 Top to bottom:
Murphy Brown
,
Manifest
,
A Million Little Things
, and
This Is Us.
Photo: CBS, ABC and NBC
Network TV isn't dead, but it's sure not getting any healthier. That's the headline from the just-concluded first week of the fall 2018 TV season, which offered little reason for broadcast execs to expect a sudden reversal in the downward ratings trend of the past decade. It's not that America doesn't still watch a lot of traditional broadcast TV: Even the least-watched network shows last week will end up with bigger audiences than almost everything on cable. The problem is, returning shows continued to bleed viewers — particularly compared to audience levels of just a couple years ago. Although a few new shows did well in their first outings, none surprised the way This Is Us or Empire did with their series debuts. It's still very early in the season — a number of new shows have yet to premiere — but here are four trends to watch this fall.
Surprising drops for network tentpoles
Shrinking audiences have been the norm across broadcast and cable networks for several years now, but this fall's declines have been brutal — particularly for some key tentpole series. CBS's The Big Bang Theory began its final season by surrendering a third of its adults-under-50 audience for both its Monday and Thursday airings. Over at NBC, This Is Us shed 25 percent of its demo ratings year-to-year, while ABC saw sizable shrinkage for Shondaland stalwarts Grey's Anatomy (losing 18 percent) and How to Get Away With Murder (losing 25 percent) and a hefty 27 percent dive for Modern Family. Fox wasn't immune, either: Empire opened down 23 percent versus 2017's Wednesday premiere. Networks like to talk about audiences shifting to delayed viewing, but DVR data for Monday through Wednesday series show similar year-to-year losses whatever the metric.
These drop-offs aren't pleasant for the networks, but they're not necessarily disastrous. With the exception of HTGAWM, all of the above shows still won their time slots in the adults-under-50 demo (with TBBT and This Is Us on track to both draw more than 15 million viewers within a week of their initial telecasts). One exec I spoke with Friday said the pain he felt looking at early numbers was also substantially mitigated by knowing his competitors were suffering similar losses. Still, even if last week's premiere numbers don't spell doom, they're symptomatic of the slow-motion collapse of linear TV consumption.
Last Man Standing and The Cool Kids open with a bang
Fox's decision to resurrect Tim Allen's canceled ABC comedy is shaping up to be one of the smartest network chess moves in years. Last Man Standing returned Friday with 8 million same-day viewers and, more importantly for Fox, a 1.8 rating among adults under 50. That's a better same-day demo number than any other comedy on TV last week (save The Big Bang Theory), a stunning 61 percent improvement over the show's last season premiere back in September 2016 (1.1 demo rating), and about 2 million more viewers than its last premiere. In fact, Last Man Standing notched its best demo rating for any episode since 2012's season-two return, a heavily promoted election-themed episode that also marked the show's shift from Tuesday to Friday night. As a rule, Fox skews a bit younger than ABC, so that explains some of the lift, as does the considerable promotion the network gave the show during its inaugural edition of Thursday Night Football.
But it's also hard not to see a bit of the Trump effect at play. Allen, despite not outright endorsing the president, has done nothing to discourage the MAGA crowd from thinking ABC canceled Last Man Standing because of the actor's conservative politics. That wasn't the case: ABC killed the show because it was produced by an outside studio (20th Century Fox TV) and thus offered less financial upside, or so network execs believed. Still, watching LMS to own the libs is probably a thing among some viewers, much like last fall's Roseanne revival benefited somewhat from its star's embrace of POTUS.
While ratings for LMS will likely decline notably in weeks to come as curiosity about the revival wears off, the tune-in for its return also gave a major boost to the premiere of new 8:30 p.m. comedy The Cool Kids, which stars over-60 comedy legends such as Vicki Lawrence and David Alan Grier. It opened with an impressive 6.8 million same-day viewers and a 1.5 demo rating, a bigger audience than any of ABC's comedies last week and enough to make it the No. 4 comedy of the week with adults under 50 (behind only TBBT, Young Sheldon, and Modern Family). Despite the AARP-friendly nature of the cast, Cool Kids managed to draw more millennial viewers than the 8:30 p.m. Friday programming on ABC, CBS, NBC and the CW combined.
A great week for Fox and NBC…
Final numbers (including DVR replays) for premiere week aren't in yet, but the early projections from one network research source suggest CBS and ABC will end up down about 25 percent among adults under 50 versus 2017 levels, with NBC flat or down just a tick and Fox jumping a massive 70 percent year-to-year. Much of Fox's turnaround can be attributed to its purchase of Thursday Night Football rights, which allowed it to quadruple its year-ago ratings on the night. But Fox can also brag about its big Friday gains and the successful relaunch of Mondays (which now feature The Resident and 9-1-1). It's also probably no coincidence that the other network not losing ground this fall, NBC, also has a prime-time pigskin showcase in Sunday Night Football. The Peacock also arguably had the best drama premieres last week, with Manifest (16.1 million viewers) and New Amsterdam (12.3 million) both getting broad sampling and strong demos. (Whether either show can hold on to those eyeballs over the coming months is an open question, of course.) And the decision to put all of Dick Wolf's Chicago dramas on Wednesday seemed to work well its first week out.
…but not so great for CBS and ABC
CBS had a mixed premiere week. It still has a slew of shows boasting more than 10 million viewers, with newbies Magnum P.I., FBI, and God Friended Me all set to join that club. And in its 18th year, Survivor held on to virtually all of its demo audience year-to-year, even as rival reality shows such as The Voice and Dancing With the Stars each lost at least a quarter of their young adult audience. Shifting Bull to Mondays also seems to have been a good call, with overall audience up 20 percent versus what Scorpion did in the same 10 p.m. slot last year. But Eye execs have to be bummed at how little pop they got for the reboot of Magnum and the revival of Murphy Brown, particularly compared to the big numbers Roseanne and Will & Grace notched last season for their respective returns. The sharp decline for the final season of TBBT isn't good news, either, particularly since it means fewer eyeballs on Young Sheldon, the show CBS execs would love to have serve as its Thursday replacement in 2019.
Premiere week's biggest loser, however, was ABC. The network will finish the week in fourth place among adults under 50, replacing Fox in the Nielsen basement. In addition to the Shondaland slump on Thursdays, its head-scratching decision to double down with four hours of the limping Dancing With the Stars was a disaster. With the Monday edition of DWTS falling a jaw-dropping 36 percent from its 2017 premiere, audiences seem to have also forgotten about last fall's breakout hit The Good Doctor, which lost a third of its demo audience versus last year's premiere. Good Doc was even down about 15 percent from its March finale, a troubling sign since young series tend to go up between their spring finale and fall premieres. Finally, ABC's big drama premiere last week — the weepy A Million Little Things — attracted about 7.9 million same-day viewers and a 1.8 in the demo, including three days of DVR replays and streaming. That's about 15 percent below the demo numbers the since-canceled Designated Survivor scored with its second-season premiere last year, and about 2 million fewer viewers. It's perhaps not surprising that Ben Sherwood, the Disney/ABC TV Group boss who's been heavily involved in guiding ABC prime time in recent years, is being pushed out in favor of Fox TV co-chief Dana Walden, according to published reports.