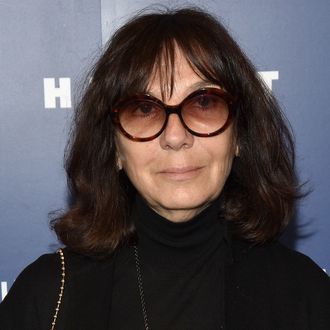 Sophie Calle, world's best cat mom.
Photo: Bryan Bedder/2017 Getty Images
Forget about all those good boy dogs, have you heard about Sophie Calle's dead cat? No? Let us prime you: The French conceptual artist's cat, Souris (whose name translates to "mouse," squeaaaal), passed in 2014. But this was not just any ordinary cat. Souris was Calle's person, so to speak. (If you've ever had the privilege of a cat welcoming you into their life, you'll understand!) And so to both grieve and memorialize him, Calle has debuted a new art project at the Paris gallery Perrotin called "Souris Calle" dedicated to her cat. It began with a since-scrapped performance piece that involved Calle reportedly pretending to be pregnant with Souris, fake bump and all. Somehow, that's not the most, uh, ambitious (or wild) part: The main event just so happens to be an entire album Calle commissioned about the cat featuring none other than Bono, Pharrell, the National, Laurie Anderson, Michael Stipe, Jarvis Cocker, and more. It's 37 tracks, probably for the 37 million tears Calle has cried since Souris departed this Earth.
"When you say you're sad about the cat, it's a bit obscene for people. You can't say that. I mean, if I say my mother or my father is dead, everyone tells me 'Oh, poor thing, she lost her mother, oh, poor thing, she lost her father,' but if we say that about our cat, we seem ridiculous," Calle told Artnet of her loss. "It makes me laugh, when for me, in my daily life, it was almost more violent, because I lived with my cat. I didn't live with my parents." Your soul feels exposed now, doesn't it? And while her collaborators might seem like an odd bunch whom you wouldn't expect to give a damn about a dead cat, NPR reports that at least ten of the artists were "acquainted" with Souris, and, I'm sorry, but I need to go speak to my therapist now.