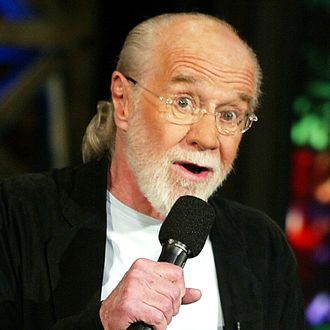 Photo: Kevin Winter/Getty Images
George Carlin was perhaps best known for his "Seven Words You Can Never Say on Television" bit, but this is a movie we're talking about, so they should feel free to go absolutely nuts with this thing. Really take it to the limit, motherfucker-wise. According to The Hollywood Reporter, the late comedian's half-century-long career is being transformed into a biopic by screenwriter Stan Chervin, who, along with Aaron Sorkin and Steven Zaillian, received a Best Adapted Screenplay Oscar nom for 2011's Moneyball.
The biopic is in development at the Jackal Group with Carlin's former manager and the executor of his estate, Jerry Hamza, attached to produce. Said Hamza in a statement, "It wasn't until after George died, I realized he was a hero. As a performer, George would never 'sell out,' and never compromise his beliefs — I learned so much from him. I think the public will be very happy to learn about George's life. He was truly the top of the ladder in his field."
While we shouldn't assume the film will feature any Jim Carrey Man on the Moon-style comedian-portraying-comedian meta-casting, it seems like a real shame to waste all this wild speculatin' time not fantasy-casting it.