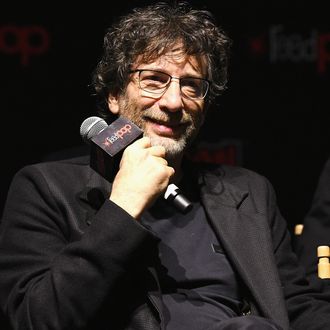 Photo: Michael Kovac/Getty Images for Starz Entertain
At New York Comic Con 2018, Neil Gaiman and the cast of forthcoming Amazon Prime series Good Omens talked about the inception and creation of the show, which stars Michael Sheen, David Tennant, Miranda Richardson and Jon Hamm. The six-episode series, about an angel-demon duo and a scrappy group of kids who work to prevent the end of days (heralded by the four motorcyclists of the apocalypse, of course), is adapted from the 1990 novel co-written by Gaiman and renowned fantasy author Terry Pratchett, who died in 2015.
In the panel Gaiman talked about the long process of adapting the novel and how Pratchett helped push him to get it done: "Terry Pratchett and I wrote the novel almost 30 years ago. We failed to get a movie made almost immediately. We kept failing to get movies made. Eventually we just handed it over to Terry Gilliam, who failed to get movies made. And then a few years ago Terry [Pratchett] and I thought it might be a really good idea to try it as television, and we went looking for writers and they all said, 'No, it's too big and too weird.' And then Terry asked me if I would write it. And he'd never asked me for anything. We'd been friends for about 35 years and he said, 'You have to do this because I don't have very long to live and I want to see it…' and then he died much much faster than any of us expected, which meant I sat down to write the script for episode one shortly after his death. I know it was a last request, so I've seen it through."
Gaiman promised fans that the series would take into account many of the book's particular turns and quirks, including a whole lot of Queen. As for the prevalence of "Bohemian Rhapsody" and other Queen hits in the world of Good Omens, that was just an example of one of Pratchett and Gaiman's in-jokes that predated the book itself. "Back in those days the only things you had to play music in a car with were cassettes, and we both noticed that despite the fact that we couldn't remember ever having bought Queen's Greatest Hits, it was there in the car," Gaiman said. "So we just started our theory that any cassette left in a car long enough turned into the best of Queen. I loved the idea of Crowley listening to 'Bohemian Rhapsody' and 'Bohemian Rhapsody' then turning into the voice of hell through the medium of Freddie Mercury… and that was where the joke began."
Well, if we can take it from Mr. Freddie Mercury himself, "Beelzebub has a devil put aside for me," and Armageddon looks like it's going to be a riot. Good Omens will premiere in 2019.