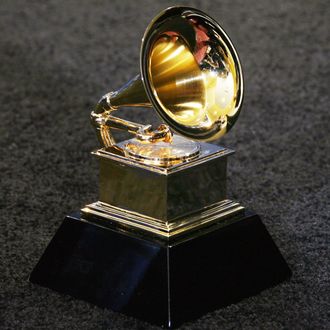 Grammys.
Photo: Gabriel Bouys/AFP/Getty Images
In one of its first major initiatives since being created in May, the Recording Academy's Task Force on Diversity & Inclusion has announced that it has invited 900 women and people of color to become voting members for next year's Grammys. The move comes after Recording Academy president Neil Portnow blamed women for their own lack of inclusion at this year's Grammys, saying they needed to "step up." (Though many industry execs demanded his resignation after the comment, Portnow will instead exit next summer when his contract is up.) The task force, led by Time's Up co-founder Tina Tchen, was established to address the Grammys' diversity problem. Of the 900 music creators invited to become members, all are either "female and/or people of color and/or under 39." It's a move similar to the Oscars, whose own Academy vowed to double its female and diverse members by 2020 in response to #OscarsSoWhite, and last year added 774 new members.
The task force has also restructured the voting bodies of its 16 Nominations Reviews Committees (which decide the nominees in all of the specialized categories), making them now majority female. The committees are now 51 percent female and 48 percent people of color, up from 28 and 37 percent. Th eight National Governance Committees that oversee membership and advocacy are also now nearly half female as opposed to 20 percent. In announcing these steps for inclusion, the Grammys have had to make another admission of how historically bad they've been about representation: 55 percent of the current 13,000 voting members identifies as white, according to never-before-released stats.