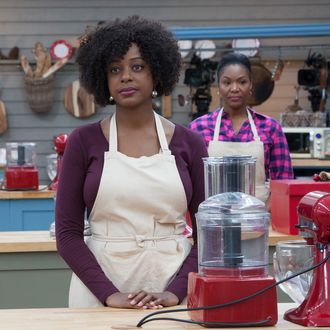 Photo: Mark Bourdillion/ABC
Without question, season three of The Great American Baking Show, the U.S. spinoff of the popular U.K. original, was an unmitigated disaster. Just a few episodes in, the show was pulled off the air after co-judge Johnny Iuzzini was accused of sexual harassment and abuse by former female employees. The rest of the show never aired, though it was later revealed that New York City's own Vallery Lomas had won the competition.
As originally reported by blog Reality Blurred, the show will return on December 6 with one new host and one new judge. (Judge Paul Hollywood and host Anthony "Spice" Adams have stayed on.) Adams will be joined by Spice Girl Emma Bunton, a.k.a. Baby Spice, replacing Ayesha Curry, who's moving on to her own show, Family Food Fight. And Iuzzini will be replaced by reality-TV chef Sherry Yard, best known for her appearances on Cutthroat Kitchen, Iron Chef America, Food Network Star, and Top Chef: Just Desserts, as well as her time working for Wolfgang Puck. The new season will be a holiday edition as part of the network's 25 Days of Christmas, so expect a lot of gingerbread and more powdered sugar than usual.