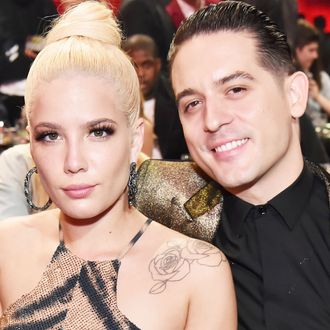 Ah, young millennial love.
Photo: Kevin Mazur/Getty Images for iHeartMedia
Halsey has returned with her first new song not as Halsey. Technically, the track is still released under that name, but as she tells Zane Lowe, "Without Me" is the first time she's ever written as just herself, Ashley Frangipane, and not for some elaborate Shakespearean concept album á la her past work, though the song is still nonetheless tragic. "No wig, no colorful hair, no character, and it's about my life and about my relationship that the world has watched so closely and so vehemently like in the past year and a half," she says. That relationship being her on-again romance with rapper G-Eazy of recent unseasoned beef acclaim. (Recall that Halsey got caught in the crossfire thanks to Machine Gun Kelly's trolling.) Halsey and G-Eazy took a break back in July but are now back to living their best boo'd up lives vacationing in Italy for her birthday. "Without Me," though, reflects on their time apart and the age-old sentiment of you don't know what you had until it's gone. Boo-hoo.
Halsey continues, "It kind of gave me like an existential crisis as an artist a little bit, because I've prided myself on being an artist who's authentic and writes about her life and all that stuff. And then when I made this, I felt just how bad it hurt." Bad enough that "Without Me" interpolates Justin Timberlake's spiteful "Cry Me a River" — "You don't have to say just what you did / I already know / I had to go and find out from them" — for dramatic effect. (JT, Timbaland, and Scott Storch are even credited as songwriters.) Ah, young millennial love.