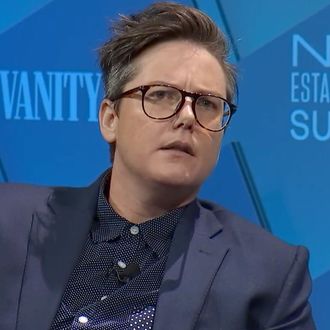 Hannah Gadsby.
Photo: Vanity Fair
Earlier this week, Australian stand-up comedian Hannah Gadsby sat down with Monica Lewinsky for an in-depth conversation at the Vanity Fair New Establishment Summit. Near the end of the interview the women took a break from talking about Gadsby's Netflix special Nanette and some serious topics when Lewinsky asked Gadsby an extremely important question: What are the odds of her hosting Saturday Night Live someday? Here's how Gadsby addressed it:
Lewinsky: Would you host Saturday Night Live if you were asked?




Gadsby: Yeah, it's not a real question, because I won't be asked.




Lewinsky: Why do you think you wouldn't be asked?




Gadsby: I am not a friend of them. They're not so fond of my work.




Lewinsky: Really?




Gadsby: Yeah, it's fine. We'll all cope. Plus I think I'm a bit slow for live TV.
Okay, first things first: Gadsby is not too slow for live TV, as demonstrated by her hilarious and show-stealing appearance during this year's Emmy Awards. Second, what exactly does Gadsby mean when she says "they" aren't so fond of her work? Does she mean SNL as a whole, or by "they," does she mean … Che? As in SNL co-head writer, cast member, and Weekend Update co-anchor Michael Che, who has expressed a disinterest in the kind of, as he put it, "standup tragedy" comedy Gadsby delivers in Nanette? Because if that's who she is referring to, that's not completely fair, because we still don't know whether or not Che has seen Nanette.
You can watch the entire interview with Gadsby and Lewinsky below. The SNL question happens 24 minutes in: