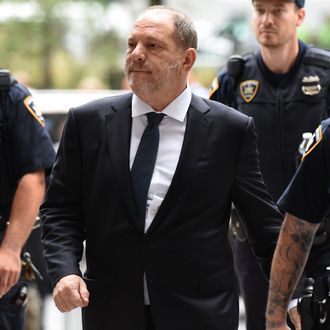 Photo: Timothy A. Clary/AFP/Getty Images
Justice James Burke dismissed one sexual-assault count against Harvey Weinstein on Thursday after information surfaced that undermined one of his accuser's allegations. Weinstein's lawyers have argued that the story of his accuser, actress Lucia Evans, didn't add up, so they recently fought to dismiss the case. The charge dismissed, criminal sexual act in the first degree, is related to Evans's accusation, Weinstein's lawyer, Benjamin Brafman, said in court. Weinstein, who walked into Burke's courtroom with a pronounced limp, maintained a stoic demeanor despite what was indeed a positive turn of events for him.
Evans had claimed that Weinstein forced her into oral sex during a meeting at his Tribeca office in the summer of 2004. Today, a September 12 letter from prosecutors to Weinstein's lawyers was unsealed and indicates that Evans's account is at odds with a witness's recollection. In the letter, which you can read below, the Manhattan District Attorney's Office says that the witness told their office that she was with Evans at a Manhattan bar when Weinstein first approached them. The witness claims that Weinstein offered them cash "if they exposed their breasts to him." The witness says she didn't accept Weinstein's alleged offer, nor did she see Evans do so.
But "according to the witness, [Evans] later told her, as they walked home from the restaurant that evening, that [Evans] had exposed her breasts to the defendant in a hallway of the restaurant that evening," prosecutors said in their letter. Later that summer, Evans told the witness that she went to Weinstein's office sometime after they met at the restaurant. Evans then told the witness that Harvey would "arrange for [her] to receive an acting job if she agreed to perform oral sex on him," according to the prosecutors's letter. "According to the witness, [Evans] told her that she thereupon performed oral sex on the defendant."
When this witness gave prosecutors these details during an August 2018 conversation, she claimed to have revealed this information to the investigating detective Nicholas DiGaudio in February. Prosecutors said in their letter that DiGaudio admitted that he "failed to inform our office of the important details," from his February discussion with the witness.
"Lucia Evans committed perjury," Brafman told the Burke.
Prosecutor Joan Illuzzi told Burke at a hearing that new information "was previously unknown" when Weinstein was indicted and that they wouldn't fight Brafman's request to dismiss this charge.
Weinstein still faces five sexual-assault charges. Those counts include first and third degree rape charges, one count of criminal sexual act in the first degree, and two counts of predatory sexual assault. Weinstein maintains that he's innocent of the charges.
Update: The NYPD in a statement defended its handling of the investigation, "The NYPD, working with its partner DANY, is fully confident in the overall case it has pursued against Mr. Weinstein," the department said in a statement. "The evidence shows that the criminal case against him is strong. The NYPD will continue to assist the prosecution any way it can to ensure justice is achieved for these brave survivors."
Evans's lawyer, Carrie Goldberg, also said in a statement posted online that prosecutors decided "to abandon" her client. "They used her," she said. "Instead of rising to the challenges of their mistakes, the DA jumped ship at the first opportunity," the statement continued. "Vance has done this before, when powerful men have been accused of sex crimes, including Weinstein himself; throwing cooperative crime victims under the bus. It raises serious questions of bias."
This post has been updated throughout.