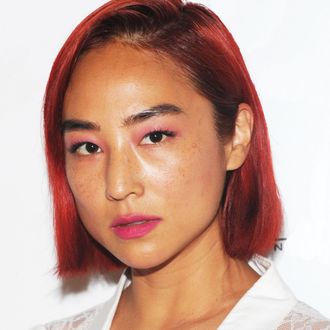 Greta Lee.
Photo: Desiree Navarro/Getty Images
Heidi the scammer has found a way into her own TV show. HBO is developing a show starring Greta Lee, who's probably recognizable for her roles as Heidi on High Maintenance, or Soojin on Girls, or perhaps just her very good Grub Street diet. Per Deadline, the series is a dark comedy called KTown, about a kingpin family in the Los Angeles neighborhood, with Lee playing "Yumi, self-proclaimed Brentwood Barbie and daughter of the Kang family, who reconnects with her 'embarrassing' Korean roots to become a powerful Korean-American woman." Jason Kim, a producer on Girls and Larry who recently wrote the Off Broadway musical KPOP, is writing the series with Lee.
"Jason and I both have a lot of experiencing working with them [HBO], it's a very comfy place for us," Lee previously told Grub Street. "The show is going to be largely about our families, because it takes place in Koreatown, L.A. … We met in New York, he was a writer on Girls, and back when I was playing Soojin — also, let's be real, there are like two Koreans around in this business. So it's like, 'Hey! You!'"
Additional reporting by Chris Crowley.