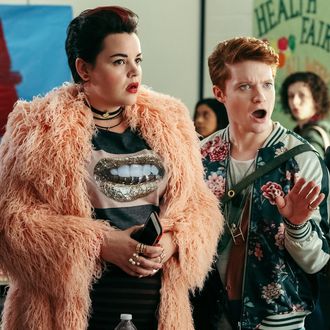 Gasp.
Photo: Michael Yarish/Paramount Network
After postponing and then canceling its extra-violent reboot of Heathers in the wake of the Parkland shooting, the Paramount Network has decided to air the series after all, though with a few key edits. According to The Hollywood Reporter, the network will air the series in a Halloween event in two-hour blocks from October 25 to 29. In light of concerns about depicting gun violence in high school in the show, the network has edited the show down from ten episodes to nine. Per THR, the network removed a story line where the school blew up at the end of the season, and a scene in the fifth episode where a character plays a video game in which "he went on a shooting rampage down the school's hallways, killing multiple people."
Paramount tried to sell Heathers to other distributors when it first canceled the series, and though it sold internationally, Netflix and Freeform and others passed on it for domestic distribution. The network also put out a teaser for its Halloween event, milking the controversy for attention.