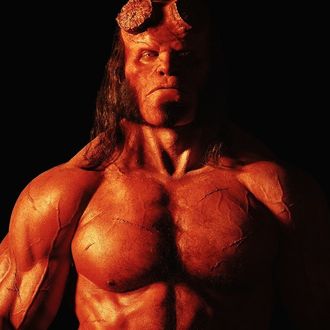 We have some good and bad news for all the super swoll Hellboy fans out there. Good: the first footage debuted this afternoon at New York Comic Con. Hooray! Bad: The film's overlords won't actually release the footage for us internet dwellers, giving us a major case of superhero FOMO. But fear not, readers. Combing through the social media abyss, it's clear that the lucky attendees are all head-over-heels for David Harbour's titular demon — and we've highlighted some of the most intriguing social media reactions below. The footage has no shortage of sizzling humor and Harbour's chiseled body, that's for sure.
Also, we got a peak at what the logo will look like. Nice font!
The film is out in April 2019. Patience is a virtue.