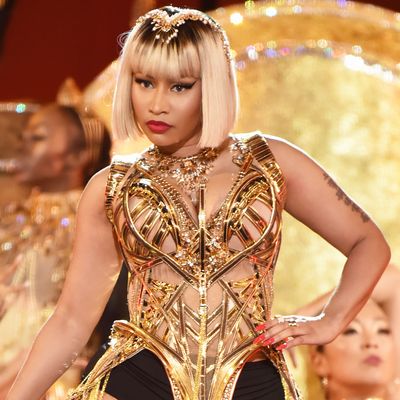 Nicki Minaj.
Photo: Kevin Mazur/Getty Images
The music-industry adage "numbers don't lie" isn't always true, but it is important. Hip-hop artists and fans genuinely believe in the idea, to the point that it has become a lyrical weapon, deployed at crucial times in the life cycle of dueling singles or albums. This summer, Drake's Scorpion moved over three times more units than Kanye West's Ye, and he made sure people knew that with a lyrical tweak during a live performance of "Know Yourself" in August: "Then Kanye flopped, it was polos and backpacks." Meanwhile, Nicki Minaj was dealing with her own numbers woes in a very public fashion.
In July, Queen, her first album in four years, debuted at No. 2 behind Travis Scott's ASTROWORLD — a big offense for someone who readily uses record sales as a cudgel in feuds. But two months later, Minaj would be warring with Cardi B instead of Scott. Nicki went on her Beats 1 radio show to allege that Cardi "built her career of sympathy and payola." Cardi never explicitly responded, but she Instagrammed something that'd at least solicit a reaction: A ranking of the year's top-ten-selling hip-hop albums, with Cardi's Invasion of Privacy at No. 3 and Queen entirely absent.
Warring using sales figures is in many ways unique to hip-hop. Rappers often rap about how much better they are at rapping than their peers, but singers crooning about being the best singer might seem corny, according to producer Jermaine Dupri. The So So Def founder, whose work spans multiple genres, says his former collaborators Jay-Z and Mariah Carey both had high commercial ambitions. But "sell a bunch of records and you still owe dough" isn't a Mariah Carey line for a reason. Though hip-hop had already seen platinum-selling '80s success with Run-DMC's Raising Hell and Beastie Boys' Licensed to Ill, Dupri recalls the numbers didn't truly become an on-record bragging right until much later.
"The '90s is when the younger generation started to pay attention to record sales, and that's when the overall scope of selling records and trying to sell as many records as possible changed for the entire record business," Dupri says. "I think people seeing other people's success becomes a contagious situation."
Boasts about record sales were still an anomaly for many top-selling hip-hop albums from the decade's first half, though Ice Cube did boast about being "still No. 1 with a bullet" on 1993's The Predator. The mid-'90s and onward saw labels flaunting those plaques on record, and artists wielding their sales success against rivals. Famous examples include Bad Boy ("I'ma win cause I'm too smart for these cats / While they makin' up facts you rakin' up plaques"), Cash Money ("I done made more money independent than a major nigga went gold"), and Jay-Z ("Men lie, women lie, numbers don't").
"Once it became not just artists signing record deals, but the artists becoming record owners — where you had a Baby [Birdman, Cash Money's founder] or a Diddy — when they bragged on numbers on those instances, it wasn't necessarily about them as an artist," says Port Arthur, Texas, rapper Bun B. "It showed their proficiency as a company; it made all the sense to say, 'Ruff Ryders we sell x amount of records.' Yeah, because you're a black-owned in a business that's normally been profitable for everyone but the black people in the industry."
But capitalism and competitiveness play out in hip-hop music unlike any other popular genre — so perhaps it was inevitable that the numbers brags turned into jabs. Sales numbers ended up becoming checkpoints in the culture's most pivotal moments. In a 1996 Vibe interview during the East versus West Coast feud, Tupac Shakur boasted that he sold "5 million [records] in two months; Biggie's album [Ready to Die] been out two years, he's barely touching 2 million." Shakur's label Death Row would fall apart after his death, along with multiplatinum pillars Snoop Dogg and Dr. Dre's departures, and Bad Boy got to lean on its platinum plaques as proof of its much wider cultural cachet.
Though the two sides traded disses for years, the true death blow came in the early aughts, during a war between Ja Rule versus 50 Cent when the latter's multiplatinum debut, Get Rich or Die Tryin', easily outsold Ja Rule's Blood in My Eye, which has yet to go gold. Then the fates turned against 50 Cent three years later when Curtis lost its highly publicized first-week sales battle against Kanye West's Graduation, which signaled the genre's turn away from bulletproof-vest-wearing street conventions to Everyman betterment. 50 Cent was one of hip-hop's highest-selling artists; after the rivalry, he'd never go platinum again.
At its core, the numbers-don't-lie concept presents itself as hard evidence within a maelstrom of subjective thought, but these metrics are known to be faulty: Illicit "pay-for-play" schemes have been alleged in hip-hop for years, plus the '90s SoundScan technology didn't take into account record stores that scan albums multiple times to boost sales numbers. In 2011, Birdman was accused of buying multiple copies of Lil Wayne's Tha Carter IV to boost his first-week totals. Although he denied doing so, the plausibility of such a scam is noteworthy in itself. A label buying its own product to boost reported sales and chart position wasn't a new concept, and Cash Money did have an incentive to do so, with IV potentially being Lil Wayne's second straight album in Tha Carter series to sell over 1 million its first week. The album came in just shy of that, with 964,000 copies sold.
Music's streaming era also muddles the veracity of sales numbers. RIAA certification rules designate 1,500 on-demand audio streams as one album sale, an easily exploitable metric. Those streams count even if they come from an album single dropped well before the project's release, and you can stuff the track list to boost those sales numbers. This year's biggest examples include Migos's Culture II, Lil Wayne's Tha Carter V, and Scorpion, which are all over 20 tracks long. They each had a just-above-average critical reception; still, they'll likely be gold-certified by the end of the year.
Other variables like streaming platforms' playlist placement also discredit the idea of high figures being truly singular achievements: The success of Drake's Scorpion was no doubt aided by Spotify's intense promotion of it. Nonetheless, record sales still hold significance for a genre that often analogizes itself with professional sports, a trade that's similarly obsessed with stats and competitiveness. Kevin Durant still gets derided for deciding to join a superteam, but a ring's a ring. Shade 45's DJ Whoo Kid, who hosted 50 Cent's early mixtapes, is one of many who are skeptical of sales metrics, noting that the stats have been shady well before the streaming era, during the deceptive tactics of the SoundScan age. Still, he understands the fascination: a win's a win even if the numbers may not be legit.
"The rappers who don't sell use mind games to say, 'Well, true hip-hop fans respect my content. I don't care about the numbers,'" he says. "You care about the numbers. So [shut] up."
"They love numbers, so you're not gonna deny somebody that has a billion streams and then one guy is talking shit," he says. "You're going to look at whoever sold the most and whoever has the most energy at the moment. And the best way to look is looking at these SoundScans and these numbers — that's really final proof. It's fucked up how a number makes you not like a song anymore."