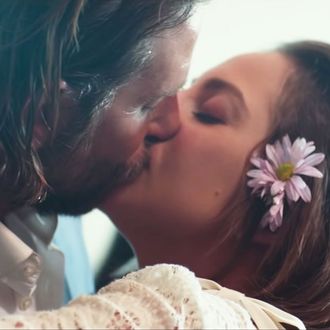 Alexa, play "I Don't Know What Love Is" by Lady Gaga.
Photo: Warner Bros. Pictures
Spoilers for A Star Is Born's romantic climax follow.
After a bender in Memphis, Jackson Maine (Bradley Cooper) and Ally Campana (Lady Gaga) spend time at his friend Noodles's (Dave Chappelle) house, when the country rocker decides to make a big personal commitment. With a ring fashioned from a guitar string, Jackson asks Ally to marry him. Noodles suggests they just seal the deal that very day, and have his cousin marry him at a church nearby. That cousin? Eddie Griffin!
Surprised to see the comedian pop up in the musical melodrama, Vulture called Griffin to talk about the scene. What inspired his cameo as a Memphis pastor? "Me and Dave Chappelle were at Charlie Murphy's funeral. I got up there and I got to preaching, and I took over the church." Afterward, Griffin said, he, Chappelle, and George Lopez went out together. "George said, 'I think you missed your calling — you're supposed to be a preacher.' So, Charlie Murphy's spirit is all over this."
Chappelle suggested Griffin to Cooper, and the comedian was happy to oblige, taking a quick break from his Vegas residency to fly down to Los Angeles and film the scene. Griffin's scene was scripted, but Cooper let him have fun with it. "Bradley, he's bad, man! He's snatching emotional strings every 15 minutes," he said. "And watching Miss Gaga work — I know the woman is going to be nominated for Oscars. She can cry on cue every take," he said. "She's got chops!"
Did Griffin ever consider that his Star Is Born role is a long-overdue Undercover Brother reunion? "Well, I do now," he chuckled. "Undercover Brother and Conspiracy Brother, back again."